Coinbase recently launched support for Zcash ( ZEC) according to a blog post on December 5. Initially, customers from United Kingdom and New York will not be able to use the service. These jurisdictions will be introduced later.
Coinbase mentions explicitly in their blog post,
"Initially, customers can send ZEC to Coinbase from both transparent and shielded addresses, but only send off Coinbase to transparent addresses. In the future, we'll explore support for sending ZEC to shielded addresses in locations where it complies with local laws."
The move succeeds the introduction of ZEC on the platform in late November. The exchange then mentioned that trading on ZEC/U.S dollar would start once substantial liquidity is established
Zcash has not yet given a response to  Coinbase's announcement, displaying a slump by almost 10 percent.  The coin is trading at around $66.64, ,down from yesterday's high point of $77.73. It's market capitalization is around $358.9 million, while its daily trading volume is approximately $155 million.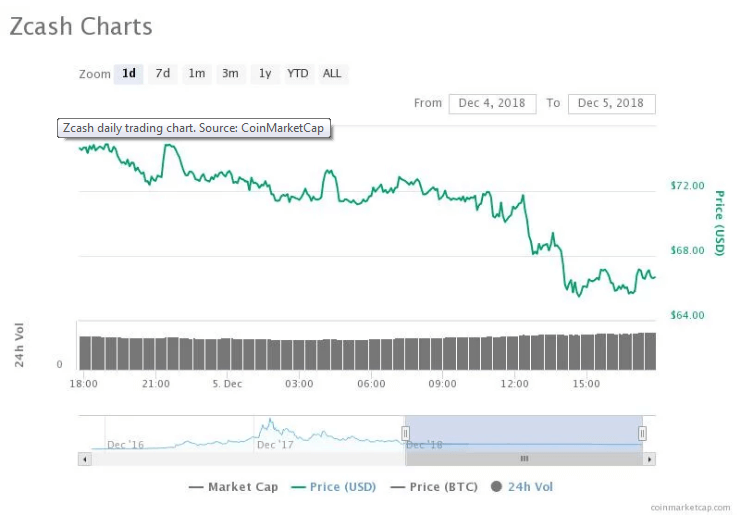 Image Source: CoinMarketCap
Earlier this  week, Coinbase launched over-the-counter (OTC) trading for institutional customers. This lead to an increased demand for OTC crypto trading from institutional players.
About zCash
The Zcash envisions  to empower everyone with economic freedom and opportunity. Cryptocurrencies such as Bitcoin provide many of the properties necessary to provide necessary freedom but transactions on a blockchain are visible to everyone. Zcash takes Bitcoin one step further by also protecting the privacy of law-abiding citizens, guarding them against harm by bad actors through the use of a cryptographic standard called zero-knowledge proofs.
According to ZCash's official blog,
" We are happy to hear that Coinbase has committed to exploring support for withdrawals to shielded addresses and believe this is a strong signal to the cryptocurrency, regulatory and financial community that they both respect the privacy rights of their users, and believe that privacy can and should be supported within regulated environments. "