Wading through tough waters, Bitcoin price can witness yet another plunge. An analyst at Bloomberg predicts Bitcoin heading towards $1500.
Bitcoin had a poor show in November, off late  the market showed some signs of stability. However, it seems that the price drop has resumed yet again. Bitcoin dropped nearly $200 from $3,900 down to $3,739.
Bloomberg technical analyst Mike McGlone further explained that bitcoin is undergoing a stiff downward momentum.
Bitcoin Cash Hard Fork and Bitcoin Price
According to the Average Directional Index , BTC has not seen a peek since July. If the indicator is high, it shows high levels of downward trend vigor. McGlone said that he predicts a possible price target of $1,500 for bitcoin. Hitting that price would imply another 60 percent fall from its current rate.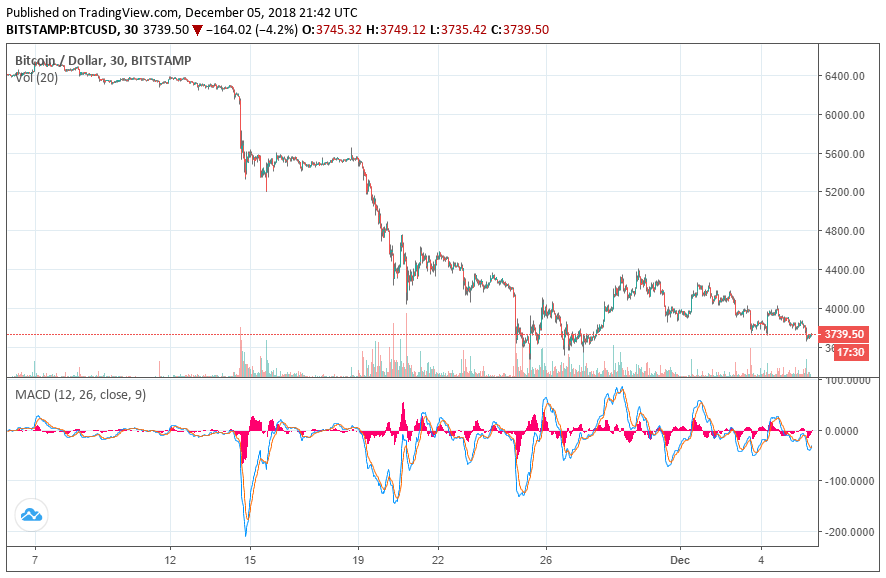 McGlone  blamed Bitcoin Cash hard fork and tax-based selling as catalysts for the downward momentum and said, 
"There's little to prevent fading bitcoin prices from reaching the continuous mean of $1,500 […] A rush to the exits among investors seems to be in place. The hard fork was a key trigger that signaled the technology is way too nascent. You had these dicey characters threatening to destroy each other and institutions said 'It might be best if we stay away from this for a while.'"
The Bloomberg report also highlights  the recent SEC's stance on ICOs and the commission's reluctance  to approve a bitcoin ETF.
As TCU reported,November saw bitcoin dip  over 40 percent, accounting for  the largest monthly price drop for the asset in the past seven years.
Other crypto experts see bitcoin dropping further as well, but some see a bottom possibly higher than $1,500. Last month TCU  reported on Anthony Pompliano's thoughts on a bottom for bitcoin.
Anthony Pompliano said 
"85 percent from the all-time high is about where we'll end up. Puts it around $3,000. Came close over the weekend but probably a little bit more to fall,"