Recently, Crypto Bitlord , a well known crypto bull moved a substantial  amount of TRON ( TRX) in escrow for his son. The currency will be released after a span of 13 years. His tweet gathered interesting responses from the community. Another crypto trader, named " Andre R"  replied to his tweet and said he had also stored Bitconnect in escrow the previous year. To this Bitlord replied that it is a good step and prices are ripe.
Today I moved a bigger amount of $TRX in escrow. This is for my son. The TRX will be released to him in 13 years

I believe this way he will basically be economically independent when he starts his adult life

Really, everybody should be securing their children's future this way.

— Sir Bitlord ❇️ (@Crypto_Bitlord) January 10, 2019
A twitter user  and trader named " Crypto King " observed that if Bitlord does it with 5 coins , it is likely that he will record highest long term relevance. More importantly, it will make his children financially independent. However, he didn't fail to pass scathing remarks on blockchain and cryptoworld. He said time will be the best judge regarding their future.
I can't tell if u are kidding or serious…

If u do this with 5 coins you presume to have the highest likelihood of long term relevance + BTC it is likely in 13 years your children will be financially independent.#Blockchain becomes obsolete or is mass adopted…time will tell

— The Crypto King (@JBTheCryptoKing) January 10, 2019
TRON in the wake of Present Market Scenario
TCU reported yesterday that TRON (TRX) price continues to maintain bullish sentiment and has risen by 25% in the past 24 hours.  The sudden price spike in the week has also left behind Bitcoin SV and stablecoin Tether behind.
While the sudden price rise was noted to be a dead cat bounce by traders, TRON has dropped by 14.2 yet again.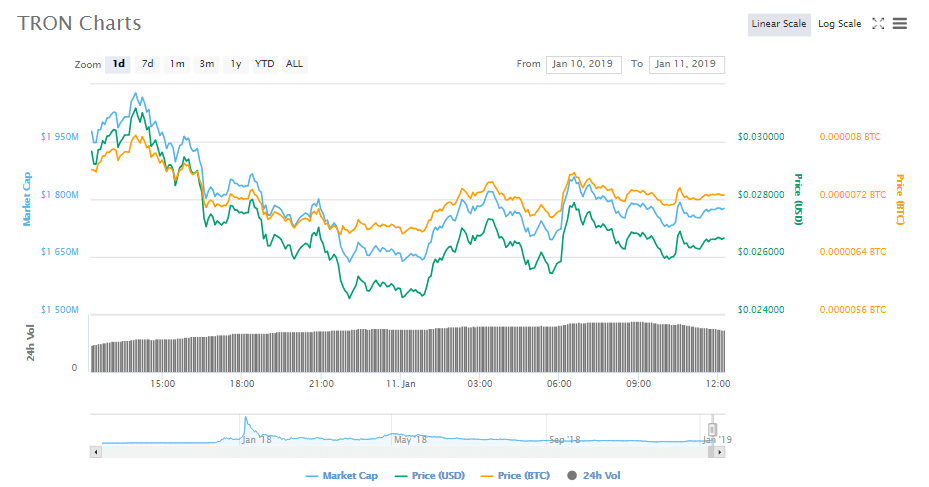 However, Relative Strength Indicator (RSI) momentum also suggested that TRX/USD pair will extend its downside correction to restest 0.0182 as its support.