Bitcoin price has risen by six percent on the day to $4,070, breaking out of the $4,000 mark easily for the first time since Christmas Eve. Bitcoin's potency does not encourage many traders of a big short-term bull rally.
Bigger Rallies for Bitcoin Price
With a 20 percent increase in its daily trading volume, Bitcoin has been able to show some momentum above $4,000. But, as DonAlt, a cryptocurrency technical analyst said, the trivial increase in the price of Bitcoin is not adequate enough to declare a trend turnaround even in the short-term.
The analyst said:
"Finally an impulse. If today closes above resistance (4000) I'll be looking for buy opportunities/close my hedge short. If it closes below resistance I'll be looking for shorts. Dangerous to trade in any direction with the Finex maintenance coming up tomorrow."
Positive Trends in Short Term
If Bitcoin price closes the day at $4,000 and shows some positivity in the short-term, it may consent to arrange for upward price movements in tight ranges for the assets. But, generally, traders saw the price movement of Bitcoin as an uninspiring move following poor several days following to Christmas Eve.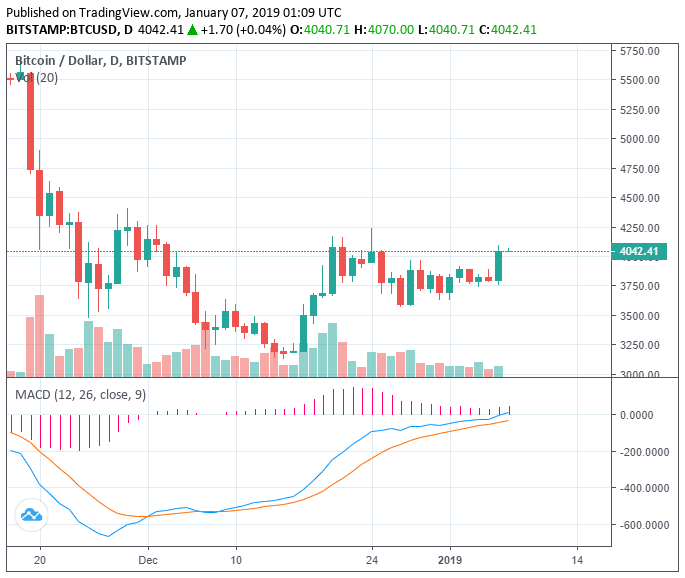 Also Read: Lightning Network and SegWit help BTC scale, Three year low for Bitcoin Transaction Fees
"Another day, another lacklustre move. Is this the top? I'm looking for $180B if we can turn $140B into support, otherwise not much too get excited about just yet,"
a cryptocurrency trader with the online alias "The Crypto Dog" wrote.
Also Read: HitBTC in a Controversy yet again, Redditor looses $700 worth ETH
Bitcoin could engage in bigger rallies during January, potentially eyeing a breakout above $4,500. Still, without a flight above $6,000 and resistance levels over it, it is difficult to validate a bottom. One trader said that Bitcoin price  is likely to witness a tedious first two quarters in 2019. With volatility in a low price range, it will be incapable to improve to key levels.
"The good news is that the low is likely in. The bad news is that we go sideways here for another 6+ months before moon mission starts again for new ATH's. The good news about the bad news is that with BTC going sideways for 6+ months (If this Forecast Map is in anyway accurate) then we're having a nice long [alternative digital asset] season,"
one trader said.
Is a larger Volume the plausible Solution?
The short-term drift of Bitcoin price is tentative due to the programmed maintenance of two major exchanges. An important factor in the prevailing cryptocurrency's performance over the next few weeks will be its daily volume. For the last two weeks, Bitcoin has maintained a volume of over $4 billion. This is lesser than its average volume at around $4.5 billion.Currently, volume levitates at nearly $6 billion. If it can sustain such a high volume, Bitcoin price will be able to continue its momentum.