After months of legal and financial tussles, a popular Canadian crypto exchange QuadrigaCX has allegedly filed for creditor protection.
The firm has filed the application in  Nova Scotia Supreme Court today in compliance with the Companies' Creditors Arrangement Act (CCAA).
The  PwC Canada states 
"The CCAA presents an opportunity for the company to avoid bankruptcy and allows the creditors to receive some form of payment for amounts owing to them by the company."
On January 29, TCU reported QuadrigaCX, recently made an announcement that it is down for maintenance.The exchange has been previously been under radar for legal troubles with Canadian Imperial Bank of Commerce (CIBC).Users on the  platform have been unable to withdraw their funds for months
Also Read: Another Crypto Exchange QuadrigaCX goes offline, Users hint at Possible Exit Scheme
As per the announcement on Feb. 5, the court will be asked to appoint Ernst & Young to monitor the proceedings.
The filing is said to provide QuadrigaCX  an opportunity to address the significant financial issues which have affected their ability.
In October 2018, the exchange disputed a $19.6 million sum with the CIBC. QuadrigaCX had been experiencing difficulties accessing $16.3 million of its funds since January. This was when the IBC froze five accounts belonging to the exchange's owner, Jose Reyes and its payment processor, Costodian Inc.
Also Read: Up and Close with Ivan Gyimah, CEO of HubrisOne
CIBC subsequently requested the court to withhold the funds and determine whether they belong to Costodian, QuadrigaCX, or the users who deposited the funds.  Furthermore, the Ontario Superior Court ruled in favor of the bank.
CIBC Exonerates QuadrigaCX
It agreed on the fact that the owner of the funds is not clearly established. CIBC was then obliged to pass the funds over to the Accountant of the Superior Court. This was done  in order to identify the owner of the money.
The situation is further complicated by the apparent death of the QuadrigaCX's  founder, Gerry Cotten.
Image Source: Reddit
A statement regarding the sudden passing of Cotten, is referenced by the exchange in a Reddit post.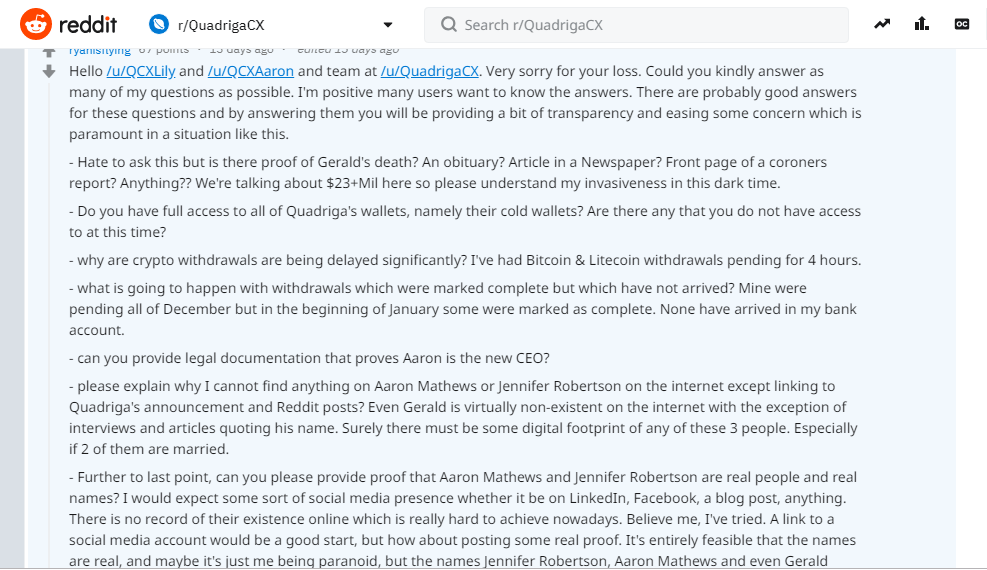 Image Source: Reddit
Following the post, some users asked for proof of death, as the keys were only known to Cotten.