WTO, the Global Industry Group, published a report that sheds proper light on the effect of Blockchain usage on foreign trade today, 27th November. According to the report, the economic value-add of Blockchain on the universal platform shall bring in around $3 trillion to foreign trade by the year 2030.
The report which has been titled 'Blockchain and International Trade: Opportunities, Challenges and Implications for International Trade Cooperation' analyses blockchain challenges and applications in different industries. More importantly, it works on what needs to be done before implementing it in the new industries.
Other topics in the report include the use of blockchain in customs, trade finance, transportation and logistics.
Potential Modifications
The use of blockchain can bring down the expenditure on global trade shortly. This is mainly because of blockchain assists by merely easing the procedures of financial intermediation, exchange rate coordination and costs and facilitating automation.
As per the study, "The elimination of obstacles because of blockchain might result in around $1 trillion of a new trade in the next ten years."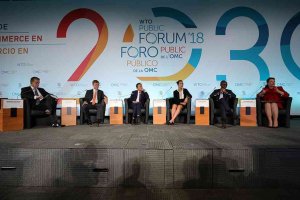 The impact of this technology will address a change in the field of logistics. It will help in determining the authenticity and origins of shipments and also in tracking shipments.
Blockchain usage is already increasing in the field of logistics by several companies like Samsung.
As per the report, the use of blockchain will bring in a great many advantages for intellectual property. It will ease the procurement procedure while fighting fraudulent activities at the same time.
Risks and Warnings
While the report indicated the potential advantages of the use of blockchain in different sectors, proper attention was also given to the risks ahead.
The most fundamental difficulty involved in using blockchain is foreign trade is predefined block size, and this could limit the scalability of this technology. Apart from this, the significant consumption of energy by blockchain is also one of the risks along with security problems.
These are challenges that need to be done away with before using blockchain in foreign trade.