Whales Corp is pleased to announce the launch of a game-changing app for crypto lovers. The company understands the stress associated with the launching of a new coin ranging from paying thousands of dollars to software engineers, securing the necessary documents, time consumption, and many other challenges.
To bring a lasting solution that not only eradicates the stress but also simplifies the process of launching a new coin,  Whales Corp introduces its token builder app that will allow Tonhub users to create their crypto coin with just a few clicks.
Currently, the world of blockchain and crypto is tantamount to the internet in the 90s; no one can explain the reason for the sudden rise in usage. Same as the internet used to be in the '90s, the crypto technology's mass adoption is at everyone's doorstep and in a couple of years they will be part of everyone's life and this will make them inevitable.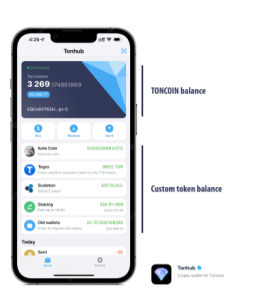 Tonhub app (Photo by Whales Corp)
Whales Corp understands that development teams spend time and resources to launch custom coins, and they want to change this narrative. They made the process simple and no experience is needed. The only thing required to be done by users is to log in to the TonWhales website via the Tonhub wallet, come up with a coin name and send the required number of tokens to their addresses. With the use of Tonhub custom token builder, creating a new coin will take a couple of minutes without hiring developers or software engineers.
While talking about benefits presented to companies by Whale Corp, the founder said "We are sure that there are thousands (maybe even millions) of companies that want to have their token built in their business in the modern world. DEX launch, which was previously announced by Whales Corp, will enable easy and fast trading of any custom coin with all members of the TON ecosystem".
According to Whales Corp, the token builder is only available to Whales Club members. To join the club a user must have one of 10,000 NFT whales that can be minted from time to time at the Ton Whales website. Subscribe to the Club's Telegram channel and Twitter to catch the next NFT mint drop.
About Whales Corp
Whales Corp is an independent developers team of TON – The Open Network – a fully decentralized and one of the fastest in the world layer-1 blockchain designed by Telegram with hundreds of thousands of community members.
Website & social:
– https://twitter.com/whalescorp
Whales Corp's main projects:
– TonHub – a fast, easy to use and secure mobile wallet for Ton Coin / https://tonhub.com
– Largest TON mining pool (~150 000 miners) / https://tonwhales.com/mining
– Largest TON staking pool / https://tonwhales.com/staking
– Whales Club – one of the most advanced crypto communities / https://tonwhales.com/club
– DEX – TON's first decentralized exchange / https://tonwhales.com/exchange