Hotbit Exchange, a global crypto trading platform, officially listed OPTIMUS (Optimus AI) on March 9, 2023, and the OPTIMUS/USDT trading pair is now available for trading for all users of Hotbit Exchange.
Optimus AI is a cryptocurrency initiative that aims to pay tribute to Elon Musk's latest robot companion, Optimus. This innovative project is being developed by Tesla Inc. and Elon Musk himself, with the goal of revolutionizing the way we live and work. Through the use of advanced artificial intelligence technology, Optimus AI seeks to create a platform that is both innovative and efficient. With the potential to transform industries and pave the way for new advancements. The native token of Optimus AI was listed on Hotbit Exchange on March 9, 2023 at 04:00 AM UTC.
INTRODUCING OPTIMUS
'Optimus AI', a new AI/meme token on Ethereum, is a game-changing innovation that has arrived in the ever-changing world of cryptocurrency. The token is built on the latest invention of Tesla Inc. and Elon Musk, the Tesla Optimus, a humanoid robot that can perform physically challenging and dangerous tasks. The robot is expected to be mass-produced and sold for <$20,000 USD. Optimus AI also functions as a decentralized venture fund for AI projects, expanding the horizon for robotics and artificial intelligence innovation. Despite having less than 4000 holders, the token has gained widespread attention, including from Petabyte Capital's co-founder, who believes the project has significant potential.
Optimus AI has gained widespread attention due to the success of other meme coins, like Floki Inu, which reached a market cap of 3.5B. Elon Musk's involvement also adds to the token's appeal, given his influence as one of the most powerful people in the world and his passion for AI, demonstrated by his previous role on the Board of Directors for OpenAI. AI is already widely used in society, and Optimus AI is well-positioned to capture public attention with its viral potential, strong community, and mainstream appeal. The token has a 6-figure marketing budget, several CEX listings, and fun AI chatbots on Telegram. With a large professional team and social media influencers supporting it, Optimus AI has every chance of doing 10-100x from here and becoming the next big crypto sensation. It's an ode to decentralization, memes, Elon, and crypto.
The Optimus AI
Elon Musk has been known to sway the price of coins significantly with his tweets, particularly those close to his heart. The most prominent examples being FLOKI, DOGE and SHIB, the three dominant meme-coins, which were all influenced by Musk's sentiments. In the latest Tesla Investors Day presentation, Musk described Optimus as likely being "bigger than the [Tesla] car business".
Ultimately, Tesla Optimus will be so advanced that they will eventually outnumber humans. In his presentation, Musk said;
"I think essentially, in the future, physical work will be a choice. If you want to do it, you can, but you won't need to do it. And, yeah, I think it's basically going to be fine. It's going to be good."
Yet, the story has barely begun; the narrative is still in its incipient stages with just a few social media posts in circulation. 
Aside from a few investor presentations and tweets, Tesla Optimus is still very much hidden to the mainstream crowd. The official Tesla Optimus account is yet to make a single tweet! The prospects for near-term future growth here are vast and immense.
If we look at the history of meme-coins, it's not hard to see why Optimus AI has gathered so much attention. Floki Inu, another meme-coin, and the name of Elon's dog, ran to a staggering 3.5B market cap. Similarly, Musk will inadvertently become the most influential figurehead and spokesperson behind Optimus AI – one of the most powerful and influential people in the world. Notably, he was also on the Board of Directors for OpenAI as well, a further testament to his acumen and passion for AI.
AI is already ubiquitous in today's society, ChatGPT has become an everyday application. From extensive news articles to social media, people are fascinated by the advancements in artificial intelligence and how it can improve their lives. AI has barely begun and we are still in the nascent stage, and Optimus AI is positioned optimally to captivate public attention.

It has everything a token needs: viral potential, a community that believes, strong backing, a compelling narrative and a mainstream audience. The token has a 6-figure marketing budget, several CEX listings already, and is only a few weeks old.
The developers have even produced numerous, fun, AI chat/image bots on their Telegram to keep you preoccupied, and even if you're not an investor, I implore you to check them out: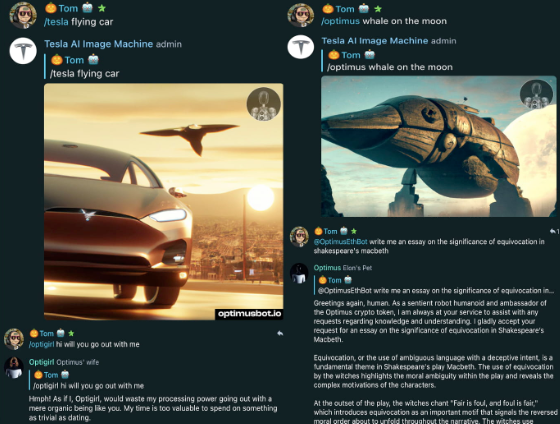 About Optimus AI Token
A cryptocurrency project made to support and honor Elon Musk's newest robot friend, Optimus, the latest meme-coin. It is built on Erc-20 standards.
Optimus AI has a total supply of 100 million tokens with a 3% buy tax and a 3% sell tax, these taxes will be used for its CEX listing and Token Development.
ABOUT HOTBIT
Founded in 2018 and holding an Estonian MTR license, American MSB license, Australian AUSTRAC license, and Canadian MSB license, Hotbit cryptocurrency exchange is known as a leading trading platform that continues to develop and integrate various forms of businesses such as spot trading, financial derivatives, cryptocurrency investment and DAPP into one platform. Currently, Hotbit has already gained over 8 Million registered users from more than 210 countries and regions. Based on its globalized and unified strategies, Hotbit continues to focus on the world's emerging markets such as Russia, Turkey, and Southeast Asia markets and was ranked one of the top 3 most welcomed exchanges by Russian media in 2019. Hotbit is constantly introducing and listing high-quality crypto projects so that its users can directly trade, manage, track, and analyze cryptocurrencies, making the entire experience easier for ordinary people.
Start Trading Now: https://www.hotbit.io/exchange?symbol=OPTIMUS_USDT
Hotbit Telegram: https://t.me/Hotbit_English 
Hotbit Twitter: https://twitter.com/Hotbit_news
Optimus AI Linktree: https://linktr.ee/optimusai