With the increasing interest of investors in cryptocurrencies, it is equally important to have a safe storage mechanism. While a large number of wallets available for storing crypto assets, hardware wallets continue to be trusted by most investors. The trust is due to the high level of security provided by them. Online wallets are more convenient to use but are prone to hacking. This is because the private keys are in control of the third party.
Hardware Wallet vs Online Wallet Infographic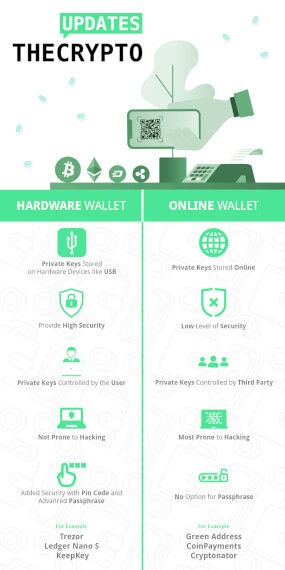 POST THIS INFOGRAPHIC TO YOUR SITE BY USING BELOW EMBEDDED CODE:
Hardware wallets are best suited for long-term asset holders who don't require access to their crypto assets for months or even years. Transactions are relatively easy when it comes to hot wallets, but they can be easily hacked. The widely-reported ransomware attacks and incidences of large exchanges getting hacked are a significant deterrent for newcomers.
The Bitfinex hack is one example of the several dangers of hot storage. In early August 2016, the employees at Bitfinex observed that many of their security measures were getting compromised. A total of $72 million worth of BTC got stolen by hackers, leading to a 20% drop in its value within a day. Hardware wallets come with their own set of risks, but if you follow the instructions correctly and take every precaution possible, the risks get significantly minimized.