As the world of gaming and blockchain technology continues to grow, new and innovative ways of combining the two are emerging. One such exciting development is the Play-to-Own industry, where players can earn real-world rewards by participating in games. This industry has seen explosive growth in recent years, with more and more gamers turning to play-to-earn platforms to generate income and accumulate digital assets.
In this dynamic landscape, a new player has emerged, offering a unique take on the concept of play-to-earn. Stradall, a revolutionary game that combines the fun of collecting trading cards with the exciting world of cryptocurrency and the thrill of racing games. It allows players to own their favorite cars digitally, trades them on a global marketplace, and even compete in exciting races, all while earning real-world rewards.
Rev Your Engines: Stradall's Top Features
Stradall takes the gaming world to a new level with its unique features. Here are some of the outstanding features that make Stradall a game-changer in the crypto gaming industry:
Play-to-own model

: Unlike traditional games where players merely play for fun, Stradall offers a play-to-own model where players can earn rewards and cryptocurrency by playing and winning. This incentivizes players to invest more time and effort in the game, resulting in an engaging and rewarding gaming experience.

Realistic game mechanics

: Stradall prides itself on delivering a realistic gaming experience for its players. The game mechanics are designed to replicate the real-life automotive industry, and players can learn about the industry and its workings while playing the game.

Limited edition trading cards

: Stradall offers limited edition trading cards that are only available for a short period. These trading cards have unique designs and are highly sought after by collectors and players alike.

Community-driven game development:

Stradall is built on a community-driven approach, where players can vote on new features and changes to the game. This ensures that the game stays relevant and engaging for its players, creating a sense of ownership and investment in its development.
With its innovative features and community-driven approach, Stradall is leading the way in the new era of crypto gaming.
Behind the Wheel: Playing the Stradall Game
Playing Stradall is an immersive and exciting experience that combines the thrill of trading card games with the excitement of owning and collecting rare automobiles. Here's a brief overview of how to get started:
First, download the Stradall app from the App Store or Google Play Store.

Next, create an account and log in to the app.

Once logged in, you can browse the available Stradall trading cards and add them to your collection.

You can also participate in the auctions to bid on and purchase rare and valuable Stradall cards.

Then, as you collect more cards, you can use them to build your own custom car and compete against other players.

The more you play, the more rewards you can earn, including in-game currency, special bonuses, and exclusive Stradall trading cards.
Whether you're a seasoned trading card game player or a newcomer to the world of gaming and cryptocurrency, Stradall offers an engaging and rewarding experience that's sure to keep you coming back for more. So why not download the app and start playing today?
Trading in the Fast Lane: The Crypto Aspect of Stradall
In addition to being a fun and engaging automotive card game, Stradall also offers a unique and exciting trading aspect. With each card representing a specific crypto asset, players can trade their cards with one another using a built-in digital wallet. This allows players to not only build their collections but also potentially profit from the rising value of certain cryptocurrencies.
By combining the worlds of gaming and cryptocurrency, Stradall offers a dynamic and cutting-edge experience that sets it apart from other play-to-own games. Whether you're a seasoned crypto trader or just getting started, Stradall offers an exciting new way to engage with this rapidly growing market.
Future-Proofing the Road Ahead: What's Next for Stradall
Stradall is more than just a game – it is the brainchild of a group of professionals who are experts in their respective fields. The team responsible for Stradall comprises specialists and experts from a range of industries, including business, cryptocurrency, NFT, blockchain development, automotive, gaming, and cybersecurity.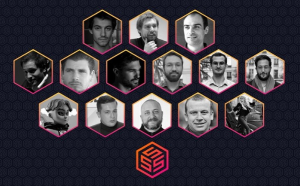 Among the team members are; 
Victor Faramond who co-founded MoonPay, which is currently the world's leading payment solution for cryptocurrency.

Michael Lee, the vice president of Dfinity and president and community of Activision Blizzard.

Benoit Huguet and Roman Didier Laurent founded the Journal du Coin, the first French-language cryptocurrency media outlet

Julius Akinyemi, MIT Media Lab professor of blockchain
And many others. 
As for the future of Stradall, the team has big plans. They plan to expand the game and introduce new features to keep players engaged and entertained. With the team's experience in their respective fields, the future of Stradale looks bright, and it is only a matter of time before it becomes a household name in the gaming and crypto world.