The world of cryptocurrency is in a state of constant flux, and as the saying goes, what goes up must eventually come down. Recently, the entire market suffered a significant setback as its value plummeted below the $1 trillion mark, leaving many investors reeling in shock. While some are anxiously waiting for the market to bounce back to its former glory, there is a new, revolutionary meme, Big Eyes Coin (BIG), that seems to be resisting the trend.
Despite the turmoil in the market, BIG has managed to maintain its position and is showing no signs of slowing down. In contrast, even the most prominent cryptocurrencies like Tron (TRX) and Uniswap (UNI) have all been forced to bear the impact of the market's downturn. In this article, we will explore how this new and exciting player managed to defy the odds and emerge unscathed from the latest crypto market fallout.

Tron (TRX): Entertainment Just Got Decentralized
Are you tired of being charged exorbitant fees for streaming content? Well, Tron (TRX) is here to change all that. Tron is a decentralized entertainment platform that aims to disrupt the entertainment industry by providing a free and global digital content entertainment system. This blockchain-based platform was founded in 2017 by Justin Sun, a young Chinese entrepreneur with a passion for decentralization.
Tron aims to create a platform for content creators to share and distribute their content without the need for intermediaries like Apple or Google. With Tron, content creators can distribute their music, videos, and games directly to their audiences, without any middlemen. The platform also offers a secure and transparent platform for users to consume digital content.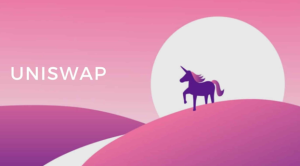 Tron's market valuation has been steadily increasing since its launch, and it's currently one of the top 20 cryptocurrencies in terms of market capitalization. Its unique consensus mechanism, Delegated Proof of Stake (DPoS), allows token holders to vote for super representatives who validate transactions on the network. With high scalability, low transaction fees, and fast transaction speeds, Tron is poised to revolutionize the entertainment industry. Tron has made several noteworthy upgrades and developments in recent years. It launched the TRC20 token standard in 2020, which allows for the creation of new tokens on the Tron network.
Uniswap (UNI): Revolutionizing the Decentralized Exchange Space
Are you tired of centralized exchanges controlling your cryptocurrency trading experience? Look no further than Uniswap. Launched in 2018 by Hayden Adams, Uniswap is a decentralized exchange built on the Ethereum blockchain, enabling users to trade Ethereum-based tokens in a simple, trustless, and permissionless way.
One of the most unique features of Uniswap is its automated market maker (AMM) system, which eliminates the need for an order book or a centralized exchange. Instead, Uniswap relies on a set of smart contracts to adjust token prices automatically based on supply and demand. Additionally, Uniswap boasts a governance token, UNI, allowing token holders to vote on platform changes and protocols.
Uniswap has seen significant developments in recent years, with the launch of version 2, introducing features such as flash swaps and token lists. In 2021, the platform announced a Layer 2 scaling solution to reduce gas fees and improve transaction speeds.
Big Eyes Coin (BIG): The Future Of Cryptocurrency
Big Eyes Coin (BIG) is the coin of the moment, and it's taking the crypto world by storm! As a meme coin based on the Ethereum ecosystem, BIG offers exciting utilities and valuable use cases by incorporating De-Fi functions in its infrastructure.
What sets BIG apart is its cat-loving community, which is as passionate as it is enthusiastic. The coin's cat-themed design and meme-like status make it stand out, and it's no surprise that it's already in its eleventh presale stage, with over $30 million raised.
Recently, Big Eyes Coin celebrated its presale victory by welcoming five other cryptocurrencies into its ecosystem. That means you can now use Bitcoin (BTC), Tether (TRC20), Dogecoin (DOGE), Binance (BUSD), and Tron (TRX) to purchase BIG.
If you're looking for even more reasons to invest in BIG, there's a giveaway currently live where you could win up to FIVE PlayStation 5's and free access to Stray, a cat-adventure game. All you need to do is visit Big Eyes Coin on Twitter to learn more about this amazing giveaway. Keep in mind that BIG is mandatory to enter the giveaway, so there's an extra incentive to invest.
But wait, there's more! Use the bonus code LAUNCHBIGEYES200 to receive an additional bonus of 200% on your total purchases of BIG. That's right – you'll get more BIG for your buck! But act fast, because this promo code ends on February 20th. So what are you waiting for? Buy BIG today and earn BIG! This is a coin that's built for success, with a community that's as passionate as it is fun. Get in on the action now and see what all the buzz is about.
For More Information On Big Eyes (BIG):
Join Pre-sale: https://buy.bigeyes.space/
Website: https://bigeyes.space/#signup
Telegram: https://t.me/BIGEYESOFFICIAL