A few weeks back few glimpses of Samsung Galaxy S10 hogged limelight. Recently, more images have surfaced of  the flagship phone's hole-punch display. The new leak offers a sneak peek at Samsung Blockchain's KeyStore app. Twitter user Ben Geskin posted the images.
The splash page describes the native cryptocurrency wallet app as secure and convenient place for cryptocurrency. In addition it will offer users benefits of importing currencies like Ether. More importantly, it will use biometric authentication for security.
New #GalaxyS10 live images leak with 'Samsung Blockchain KeyStore'

(images via @GregiPfister89) pic.twitter.com/g0FipTooe6

— Ben Geskin (@VenyaGeskin1) January 23, 2019
The  "Infinity-O" hole-punch display was first seen in Samsung's A8 phone. Firstly, it was released in China. It will be interesting to witness he hole-punch selfie camera as a solution to notched screens with the Nova 4 and  Honor View 20 doubling down on the concept. It is a design which will be seen more of in 2019.
Also Read: Coinbase to add services for Crypto Whales in Europe and Asia
Samsung Files Patent for Digital Currency Trademark
TCU reported on December 29th, As per the filing with the U.K Intellectual Property Office, Samsung has filed for a digital currency trademark in U.K. On the other hand,  Samsung has continuously declined the rumors of embedding crypto cold wallet in their next smartphone. Still, the electronics giant has filed three EU trademark applications for crypto and blockchain-based software.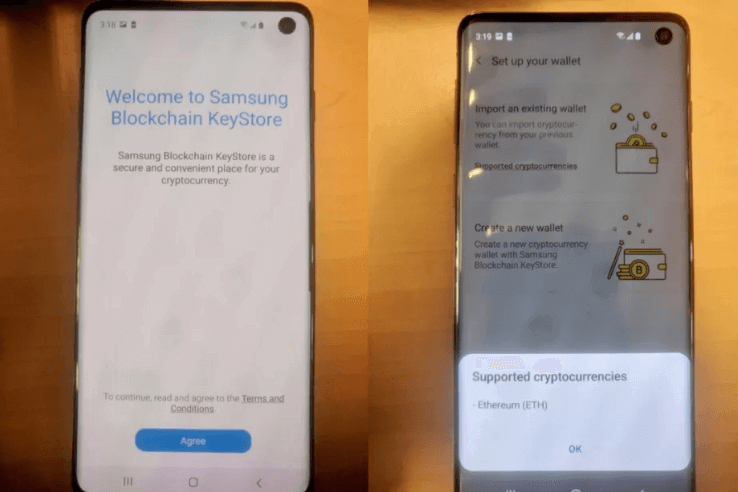 The classes & terms section mentioned that the computer software is used for crypto wallet, crypto transfer and transactions over DLT.  Additionally, the software supports payments through third party software. As a matter of fact, the South Korean electronics giant is not the only to have developed blockchain-based products. And is in middle of acquiring three EU trademarks for crypto and blockchain based software.
Also Read: Binance CEO Lambasts News Giant CCN for Fake Data Breach News