At a very recent Crypto Conference in Dubai, QuickX announced the world's first Crypto Mining Watch that enables users to earn cryptocurrencies by burning calories!
"The more you exercise, the more you will earn… not only earn our QuickX and CNEX Tokens (already traded on different exchanges) but alsoo the rcryptocurrencies like Ether and even Bitcoins" Dr. Vaibhav Adhlakha (Founder and CEOof QuickX) proudly announced from stage and his brother, Dr. Kshitij Adhlakha (Founder and COO of QuickX) added: "We have developed this Mining Watch, to help the world to exercise more and get fit… and at the same time earn money. We believe that this will motivate a lot of people to get in shape… quickly!" This was said with a big smile and the Audience was laughing and clapping, seems we all got the point.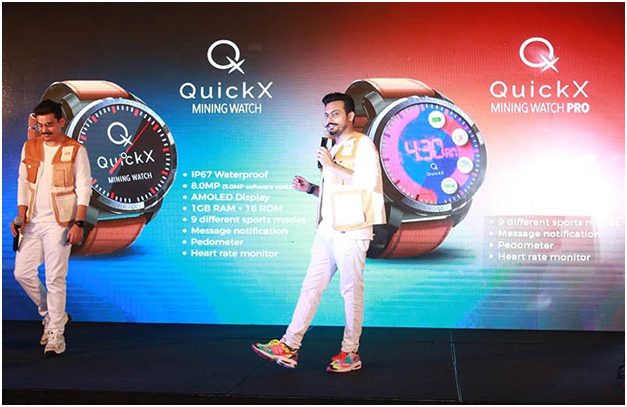 The QuickX Mining Watch was shown live on stage and the audience was stunned. Even the two brother showed both their test watches on their wrists. "We ALWAYS test our products ourselves before it goes into the market, a way to secure it lives up to our high standards at QuickX" Dr. Kshitij Adhlakha pointed out from the stage and Dr. Vaibhav Adhlakha added: "Listen we are not a watch maker, we develop software and for this Mining Watch we found the best Smart Watch manufacturer, a manufacturer that was open to our ideas and would give us the exclusive rights to sell the watch with our software, there for this Mining Watch is unique".
A complete different team from QuickX have been working behind the scenes for almost a year to build this QuickX Mining Software and will be the "first of it's kind" in the world. All data transferred from the watch to the servers are unique to each watch, so no personal data is transferred. A brilliant way to secure your privacy and comply with all rules.
The QuickX Mining Watch comes in two different versions, the normal QuickX Mining Watch ($799) and the QuickX Mining Watch PRO ($999), both models will be delivered with the Mining Software preinstalled and will be ready for shipping December 1st. just in time for Christmas.
The QuickX Mining Watch is just so more than just a normal Smart Watch: This first-of-its-kind Dual Chip, Dual System smartwatch features 800 mAh Battery, Android OS & Lite OS, Dual 4G-LTE, 8 MP HD Camera, High Quality Voice Call, as well as dual styles – Business Style and Sports Style. The 1.39" AMOLED Retina Display with a resolution of 454*454 and PPI of 472 that makes the pictures crisp and clear for a great visual experience.
One of the highlights of the QuickX Mining Watch is that it is equipped with MTK6739 quad-core processor and has a main frequency of 1.25 GHz. This unique watch comes with 3 GB RAM and 32 GB (PRO Version) internal storage capacity which enables the watch to run smoothly. Besides, it is super easy to connect the watch with a smartphone, be it Apple or Android. The smartwatch can also be used as a standalone phone by connecting it to a pair of Bluetooth earphones. The standalone watch's Android 7.1.1 system supports all Google Playstore apps as well as third party apps which run on Android. Another amazing feature is the 'Instagram Ready Feature' wherein user can click, record and upload their images instantly with the help of 8 MP HD Camera on the side of the watch.
The QuickX Mining Watch boasts of several remarkable features, including its two modes – "Normal Mode" and "Light Mode". The "Normal Mode" lets the users use it as a normal smartwatch wherein they can use all the applications, be it Facebook, Twitter or Google Maps and even games. On the other hand, the "Light Mode" enables the phone to run for a standby time of 7 days on a single 1-hour charge. Besides, its IP67 Waterproof feature ensures that nothing happens to the QuickX Mining Watch while swimming 1 meter deep in the pool for more than 30 minutes. Thus, these smart features help users stay healthy while earning money by mining cryptocurrencies!
Furthermore, this QuickX Mining Watch that supports both has a state-of-the-art ceramic bezel that has undergone 25 processes and 300 man-hours of carving. Besides the lightweight and sturdy bezel, another hardware standout is its removable strap. You can purchase different straps– Metal Strap, two Leather Straps in different colors, and Sports Strap which is waterproof. The watch box includes the smartwatch itself, charger, tool kit, user manual and protective film to safeguard against scratches.
To put it in a nutshell, the launch event of the world's first Crypto Mining Watch was a huge success and garnered instant appreciation from the audiences. QuickX is already known in the market for its QuickX Protocol, QuickX and CNEX Token and their (to be released) CNexchange, the first community-owned Crypto Exchange.