PrimeXBT is a cryptocurrency trading platform that has become increasingly popular among traders in recent years. Offering a diverse range of professional trading tools and features, PrimeXBT has established itself as a leading platform for those looking to trade crypto futures and CFDs on traditional assets. 
In this review, we'll provide a balanced overview of the pros and cons of using PrimeXBT for your trading activities. So, let's dive in and explore what PrimeXBT has to offer.
PrimeXBT Futures Review Overview
PrimeXBT is a leading crypto trading platform in the margin trading industry, established in 2018. Users can trade in a wide range of markets, including cryptocurrency futures, forex, stock indices, and commodities, using fiat or crypto as collateral. 
The cryptocurrency exchange was registered in Seychelles under its holding company PrimeXBT trading services, number 148707. In early 2019, it opened an office in St. Vincent & The Grenadines and shifted its trading infrastructure to Switzerland. 
| | |
| --- | --- |
| Date Established | 2018 |
| Types of Assets | Crypto Futures, CFDs on Forex, Commodities, and Stock Indices |
| Total Number of Assets | 100+ from a single trading account |
| Deposit Types | Cryptocurrency (BTC, ETH, USDT, USDC, etc.), Credit/Debit Cards (Visa, Mastercard), Fiat Accounts in USD & EUR |
| Extra Features | Copy Trading, Trading Contests, Trading Academy, Mobile App, Referral Program |
| Primary Benefits | High Leverage, Low Trading Fees, Advanced Trading Tools, Global Market Access, Secure and Reliable Platform |
Getting Started: How To Set Up A PrimeXBT Account
If you are interested in trading cryptocurrencies, PrimeXBT offers the most important tools and features that are designed to help you get the most out of global markets.
To create an account on PrimeXBT, you need to provide your email address and password. Next confirm your account via the email that is dispatched. Once you've done that, you can start exploring the platform. KYC is currently not enforced, but is optional for users who want to enjoy additional benefits.
PrimeXBT offers a user-friendly interface that is easy to navigate. It is divided into different sections, including a main account area, trading platform, copy trading, and more.
To begin, you must make a deposit:
Deposits & Withdrawals
PrimeXBT previously only accepted cryptocurrencies, but has since added support to deposit fiat currency in USD and EUR. Crypto deposits are made to a secure cryptocurrency wallet, separated from the trading account to ensure margin allocation and requirements do not impact overall holdings. For example, traders can keep some crypto in the futures wallet, separate from the trading account, in which they can later top up the trading account if more margin is required.
There are no deposit or withdrawal fees, which is a significant advantage. Only a small blockchain fee of 0.0005 BTC or equivalent is required for withdrawals. Withdrawals are made once a day for security purposes. This is because PrimeXBT stores all customer funds in a cold storage wallet, behind a proprietary process that has yet to be hacked or intruded upon. Further security such as crypto address whitelisting and two-factor authentication ensures funds are safe at all times.
PrimeXBT Exchange Review
In the account wallet system, the platform conveniently features the PrimeXBT futures exchange tool that allows users to swap one cryptocurrency for another. In an example, a user might earn BTC from the company's referral program, yet prefer to trade with a base account in a stablecoin or USD. Users can exchange coins in a flash.
Buy Crypto or Fiat
Users can also fund an account using a debit or credit card, or make a deposit to begin if they don't have any crypto or fiat. The process is handled by a variety of third-party partners. Simply follow the steps and funds will be deposited to your PrimeXBT account once completed.
Deposit Bonus
For those considering trading with PrimeXBT, there is currently a promotional offer worth noting. For deposits of $500 or more, a $100 bonus is available. This bonus can be claimed within 48 hours of registration and remains valid for two weeks. It may be an ideal time to explore their Bitcoin trading platform and evaluate their offerings.
PrimeXBT Futures Pros And Cons
PrimeXBT Futures is a cryptocurrency trading platform that provides a unique trading experience for both novice and experienced traders. Like any other trading platform, PrimeXBT Futures has its pros and cons that traders should consider before investing their time and money. 
Here are some of the most notable advantages and disadvantages we discovered from our PrimeXBT futures review summary:
| | |
| --- | --- |
| Pros | Cons |
| 200x leverage on crypto and up to 1000x on forex and commodities | High leverage can also be risky, so trade with caution |
| Wide range of assets including cryptocurrencies, forex, commodities, and stock indices | Unregulated platform |
| Intuitive and user-friendly trading platform | No support for US residents and some other jurisdictions |
| No minimum deposit | No phone support |
| Copy trading feature allows for easy replication of successful traders' strategies | |
| Secure and reliable platform with two-factor authentication and cold storage | |
| Mobile app available for iOS and Android devices | |
| Advanced trading features such as stop-loss, take-profit, and sliding margin system | |
PrimeXBT Futures Trading
Here are the primary benefits of trading crypto futures at PrimeXBT:
Perpetual Futures Contracts
One of the standout features of PrimeXBT's crypto futures trading is the ability to trade perpetual futures contracts. These contracts function similarly to traditional futures contracts, but do not have a specified expiration date. This means traders can hold their positions for as long as they like, making them an attractive option for longer-term trading strategies.
Long and Short Positions
Another key aspect of PrimeXBT's coin futures trading is the ability to take both long and short positions on a variety of cryptocurrencies. This allows traders to profit from both rising and falling markets, giving them more flexibility in their trading strategies.
Sliding Margin System
The sliding margin system is a powerful feature that allows traders to finely tune their leverage from 1x all the way up to 200x, providing unprecedented control over trading strategies and PrimeXBT futures balances. Additionally, this system lets traders switch between cross or isolated margin, which can further enhance their flexibility.
The benefits of this feature are numerous. For one, traders can tailor their leverage to match their risk tolerance and investment goals, allowing them to optimize their returns while minimizing potential losses. This can be especially important in volatile markets, where sudden price movements can have a significant impact on portfolio performance.
Switching between cross or isolated margin can also be a powerful tool for traders. Cross margin combines all available funds across different positions to provide greater overall margin, while isolated margin limits the risk to a specific position. Depending on the trader's goals, one approach may be more suitable than the other. Being able to switch between the two provides flexibility and a level of customization that can be critical in achieving investment objectives.
Cryptocurrencies Available
PrimeXBT offers a range of popular cryptocurrencies for trading, including:
CFDs for Traditional Assets
PrimeXBT offers more than just cryptocurrency trading. The platform also offers contracts for difference (CFDs) on a wide range of traditional assets, including forex, commodities, and stock indices. 
Portfolio Diversity
Trading on PrimeXBT allows users to diversify their investment portfolio by adding traditional assets like forex, commodities, and stock indices. By adding these assets to their portfolio, traders can take advantage of the fluctuations of the global market and hedge against risk.
Access to Global Markets
PrimeXBT offers traders access to a variety of global markets with a single account. This allows traders to easily invest in markets that may not be available to them in their home country. Furthermore, the platform's advanced trading tools help traders to take advantage of market trends and make informed trading decisions.
New Opportunities for Crypto Traders
For crypto traders who are looking to diversify their portfolio or want to invest in traditional assets, PrimeXBT provides a unique opportunity. 
Here is the full list of available traditional asset trading pairs.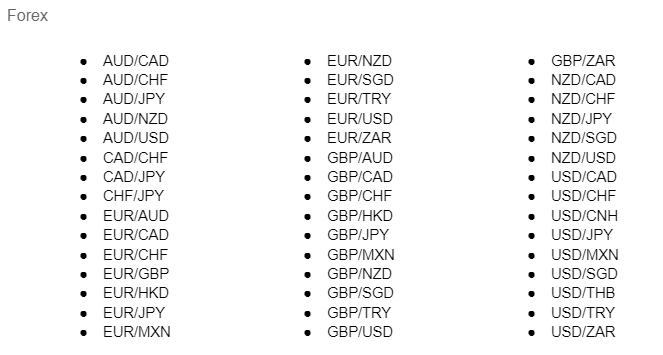 PrimeXBT Futures Platform
The PrimeXBT futures is a feature-rich platform that offers traders access to innovative trading tools and features. 
The platform's interface is easy to use and provides traders with access to advanced trading tools, such as real-time charting, technical indicators, and more. 
Additionally, the platform offers a range of order types, including market orders, limit orders, and stop orders, which allows traders to execute their trading strategies more effectively.
Here is a closer look:
PrimeXBT User Interface
PrimeXBT offers a fully customizable user interface, allowing traders to tailor the platform to their individual preferences. This is an excellent feature for traders who value a personalized trading experience and want to optimize their workflow. With PrimeXBT's customizable user interface, traders can rearrange the elements of the trading interface to their liking, moving charts, trade panels, and other features to wherever they prefer on the screen.
The ability to customize the user interface is particularly valuable for traders who use multiple monitors or who have specific preferences for how they view market data. By rearranging and resizing the platform's windows and panels, traders can create a trading environment that fits their unique needs.
Another key benefit of PrimeXBT's customizable user interface is that it allows traders to reduce clutter and focus on the elements that are most important to them. For example, traders who primarily use technical analysis may want to enlarge the chart and hide other panels to reduce distractions. Built-in technical analysis tools are available from the industry standard TradingView, ensuring traders don't ever need to leave the crypto trading platform.
PrimeXBT Futures Trading Fees
Another feature of PrimeXBT is its low trading fees. The platform charges a 0.05% trading fee on all trades, which is lower than many other cryptocurrency trading platforms. There are zero fees on traditional assets. However, overnight financing fees are charged for positions financed overnight. 
Here is a table with all PrimeXBT futures trading fees:
| | | | | |
| --- | --- | --- | --- | --- |
| Asset Category | Fees | Overnight Financing Long | Overnight Financing Short | Trading Hours |
| Crypto | 0.05% | 0.069% | 0.069% | 24/7 |
| Forex | 0% | 0.069% | 0.069% | Sunday 21:05 – Friday 21:00 GMT |
| Commodity | 0% | 0.069% | 0.069% | Varies depending on the commodity |
| Stock Indices | 0% | 0.069% | 0.069% | Varies depending on the stock exchange |
Please note that all PrimeXBT futures fees are subject to change. View the fees and conditions page at PrimeXBT for the latest information.
Is PrimeXBT Futures Safe?
PrimeXBT takes security very seriously and has implemented a range of measures to ensure that its users' funds are safe. 
The platform uses industry-standard encryption technology to protect users' personal and financial information, and it stores the majority of users' funds in cold storage, which is not connected to the internet and is therefore less vulnerable to hacking attempts.
Needless to say, PrimeXBT futures safe and secure best practices are top notch.
Additional Trading Platform Features
PrimeXBT futures offers a comprehensive suite of complementary features to assist new or experienced traders.
Here is a closer look at all the added features that PrimeXBT futures offers: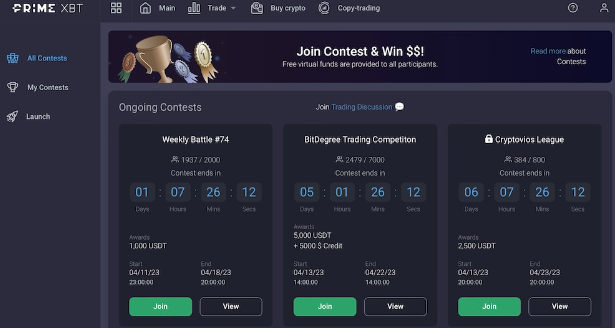 PrimeXBT Contests
PrimeXBT also offers contests for its users, providing an opportunity to earn extra crypto-based rewards beyond regular trading profits. These contests are typically run on a weekly basis and offer a prize pool to the top traders. The contests are designed to be fair and transparent, and anyone with a PrimeXBT futures account is eligible to participate.
There are several types of contests available, each with its own rules and requirements. For example, some contests may require traders to achieve the highest percentage return on their trades, while others may require traders to achieve the highest trading volume. The exact requirements and rules of each contest are typically outlined before the contest begins, and all participants are expected to follow them.
One benefit of PrimeXBT contests is that they can help traders to sharpen their trading skills and strategies. Competing against other traders in a real-time environment can provide valuable experience and insights, as well as motivation to perform at one's best.
Another benefit of PrimeXBT contests is the opportunity to win significant prizes. Depending on the contest, prize pools can range from several thousand to tens of thousands of dollars, making it a lucrative opportunity for successful traders.
Demo Account
PrimeXBT Contests not only offer traders the chance to win crypto prizes, but also acts as a demo account for users to practice using the platform and backtest trading strategies. 
The simulated trading environment replicates real-time price charts across dozens of trading pairs, giving traders of all skill levels the opportunity to gain hands-on experience before entering the live markets. 
With no risk involved, traders can safely test out technical indicators and practice trading strategies. Whether you're a novice trader or an experienced pro, PrimeXBT Contests provides a valuable tool for honing your trading skills and refining your strategies.
PrimeXBT Trading Academy
PrimeXBT's Trading Academy is a valuable resource for traders looking to improve their skills and stay up-to-date with the latest market trends. Hosted by veteran trader Dirk Hartig, who has over two decades of experience, the Trading Academy acts as a free demo account and offers a wide range of educational resources for traders of all levels.
The Trading Academy covers a comprehensive range of courses and tutorials on various trading topics, from the basics of trading to advanced strategies and techniques. In addition to the courses, the Trading Academy also offers helpful videos, market updates, and trading strategies, all designed to help traders make more informed trading decisions.
The Trading Academy is accessible to all PrimeXBT users, making it a valuable resource for anyone looking to improve their trading skills and knowledge. Whether you are new to trading or an experienced trader looking to sharpen your skills, the Trading Academy has something for everyone.
Copy Trading
PrimeXBT offers a unique feature called copy trading that allows traders to mimic the trades of successful traders on the platform. With top traders on the platform currently boasting over 5,000% ROI, and the Wall of Fame showcasing traders with even higher returns, it's no wonder that copy trading is such a popular feature on PrimeXBT.
This feature is especially helpful for new traders who are just starting out and for those who don't have the time to analyze the market on their own. By copying the trades of successful traders, users can gain valuable insights into their strategies and increase their profits.
The process of copy trading on PrimeXBT is straightforward. Users can browse through the profiles of top traders on the platform and select the ones whose strategies they wish to copy. The system will then automatically execute the trades of the selected trader in the user's account, with the same leverage and risk management settings.
However, it's important to keep in mind that past performance is not a guarantee of future results. While copy trading can be a useful tool, users should always exercise caution and conduct their own research before copying any trader's strategies.
PrimeXBT Mobile App
The PrimeXBT mobile app is a well-designed and fully-functional trading platform that enables traders to access their accounts from anywhere in the world. The app is available for both iOS and Android devices and offers all the features of the desktop version. 
With the app, traders can open and close positions, monitor a watchlist, and access global markets on the go. The app's user interface is intuitive, and traders can quickly and easily navigate through the various sections of the platform. 
Additionally, the app is regularly updated to provide users with the latest features and security measures. One of the most significant advantages of the PrimeXBT mobile app is its speed; traders can quickly react to market changes and execute trades wherever they are at any time.
PrimeXBT Futures Support and Safety
PrimeXBT is committed to providing its traders with a safe and secure trading environment. The platform employs a number of measures to ensure that user information is protected and that trading activities are conducted fairly and transparently. 
In addition, PrimeXBT futures support is available 24/7 just like the crypto market itself to help traders navigate the platform and address any questions or issues that may arise.
Security Measures
One of the most important considerations for any trading platform is security. PrimeXBT uses a number of security measures to protect its users and ensure that trading activities are conducted safely and securely. For example, the platform uses two-factor authentication (2FA) to help prevent unauthorized access to user accounts. Additionally, all user data is encrypted and stored securely.
Another important security feature offered by PrimeXBT is the use of cold storage for user funds. This means that the majority of user funds are stored offline in secure, encrypted vaults. This helps to prevent theft or loss of funds due to hacking or other security breaches.
Customer Support Options
PrimeXBT offers a range of support options to help traders navigate the platform and address any questions or issues that may arise. These include a detailed knowledge base, live chat support, and email support. The knowledge base includes a range of articles and tutorials on various aspects of trading, including guides on using the platform and information on trading strategies.
Live chat support is available 24/7, allowing traders to quickly get help with any issues they may be experiencing. Email support is also available for more complex issues that may require more detailed assistance.
Industry Awards
While PrimeXBT is a relatively new player in the industry, it has already garnered several awards for its innovative platform and outstanding customer service. 
In 2020, PrimeXBT won the ADVFN International Financial Awards for Best Bitcoin Trading Platform and Best Forex Trading Platform. Additionally, it was recognized for several Forex Awards, and more recently, the Crypto Expo Dubai award for Most Trusted Crypto Asset Trading Platform in 2022. 
These awards are a testament to the quality of PrimeXBT's platform and its commitment to providing top-notch service to its users. 
PrimeXBT Futures Review Summary and Final Thoughts
After exploring the various features and aspects of PrimeXBT Futures, it's clear that the platform is a strong option for those looking to engage in leveraged trading of both crypto and traditional assets. With a user-friendly interface, competitive fees, and a wide range of trading tools and options, there are several reasons why traders may want to consider using PrimeXBT for their trading needs.
Overall, for those who are comfortable with leveraged futures trading and looking for a comprehensive platform with a variety of assets and tools, PrimeXBT Futures is a solid choice. However, as with any trading platform, it's important to carefully consider your own needs and goals, as well as to thoroughly research and understand the risks involved, before deciding whether or not to use PrimeXBT Futures for your trading needs.