Cryptopia, the New Zealand based cryptocurrency exchange which suffered a security breach earlier this month continues to lose funds. Elementus, a next generation blockchain analysis company reported that over 17k wallets were drained of funds on January 28, 2019. The hack allegedly started at 6: 58 AM and was carried out throughout the day.
On January 24th TCU reported, a report by Blockchain Analysis Platform Elementus revealed that true value of assets sums upto about $16 Billion. The $16 million figure only covers ether and ERC-20 tokens. Elementus also mentions that hack counts for a difficult analysis from a security point. This is because  examining how it was carried out raises several odd questions.
Also Read: Elementus Report: Cryptopia loses $16 million worth Crypto Assets
Cryptopia loses 1675 ETH
The exchange platform has lost around 1,675 ETH to the latest attack. 5,240 wallets that were affected during the previous security breach, were hit by the hackers again.  The report states that interestingly the users of these had no clue of the breach and cryptocurrencies were added to the accounts.
In the previous attack the attackers moved $16,002,108 worth of Ethereum tokens over the course of five days. Additionally they stole  $2,446,212 worth of iDentacoin and $1,148,144 worth of Centrality. Later, attackers then set about transferring them to exchanges in small pieces, hoping to cash out a total of $882,632.
The Ethereum address to which the stolen tokens were sent to is being identified as
0x3b46c790ff408e987928169bd1904b6d71c00305.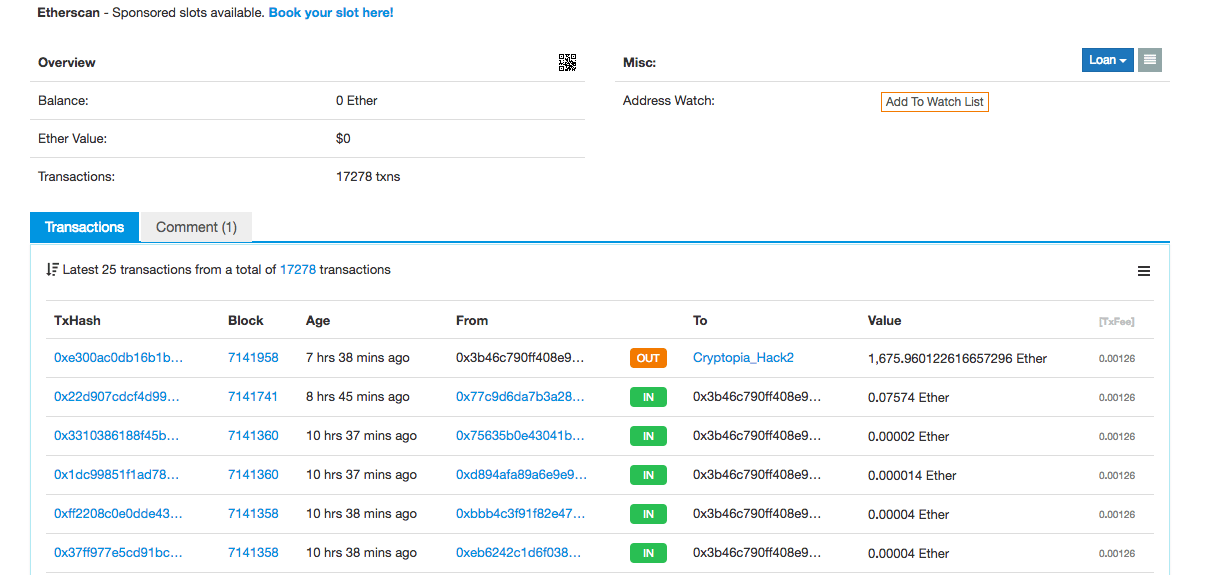 The report stated:
"Initially it wasn't clear whether this might be Cryptopia securing their remaining funds. But by 9:50pm this evening, we got our confirmation that this was indeed the same thief. At that time, the incoming transfers stopped and the combined funds were moved into the address, the same wallet that currently stores the other stolen Cryptopia funds."
The report claims that the exchange platform does not have control over their Ethereum wallets' private keys. It also states that users of the platform are continuing to make the deposits unperturbed by the hack continue to deposit Ethereum tokens in their wallets, irrespective of the hack.
Also Read: Another Crypto Exchange QuadrigaCX goes offline, Users hint at Possible Exit Scheme