On January 29, the Monetary Authority of Singapore (MAS ) issued a ruling against about fake sites soliciting cryptocurrency investments. Furthermore, they repeated their statement on digital assets. Unfortunately, the prices of several digital currencies continue to see gains despite warnings.
"These websites falsely claim that Singapore is adopting a cryptocurrency as its official coin,"
the statement read.
Also Read: BitTorrent (BTT) Completes Successful Airdrop for Unfulfilled Users
MAS has time and again stressed that investing money in crypto assets is a risky proposition. Additionally, it has previously issued advisories to warn of the risks cryptocurrencies bring.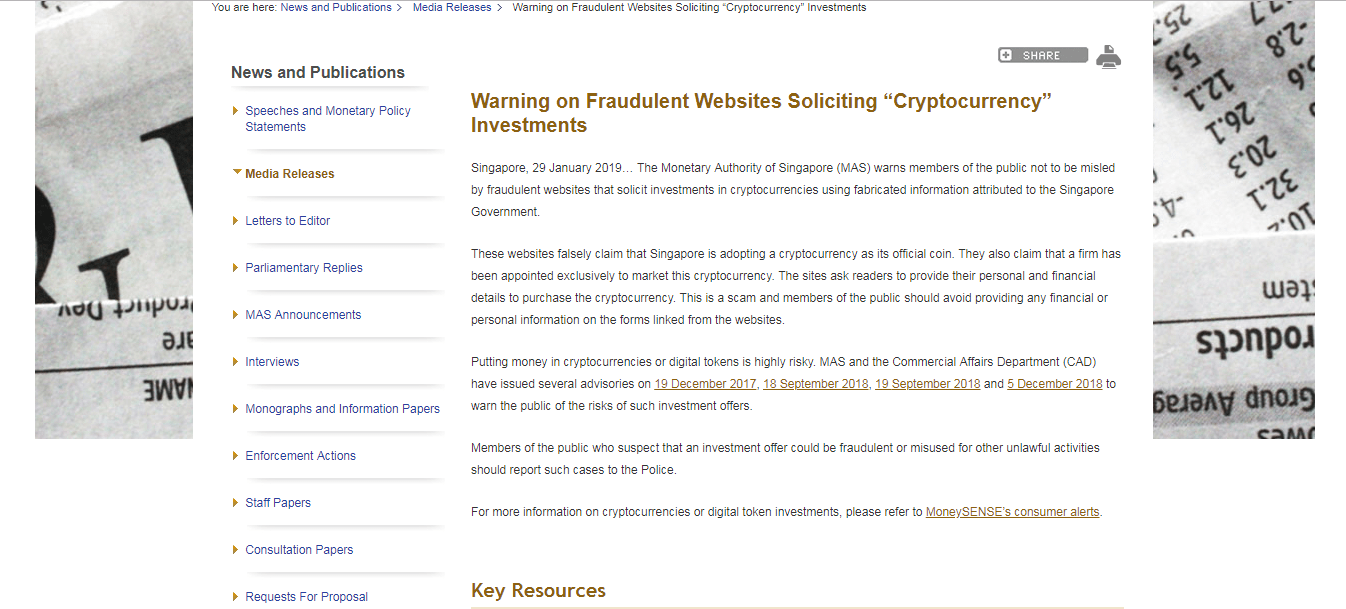 Was Bitcoin Revolution a Ponzi Scheme?
Singapore's move draws heavy similarity from Malta's move. Malta had warned of alleged global scam popularly known as Bitcoin Revolution. The watchdog stressed that the Bitcoin Revolution is not registered or licensed to provide financial and investment services in the country.
Also Read: Crypto winter hits NEM foundation as it plans Layoff and Pivot
Regulators worldwide are concerned about the scams and illicit uses of digital assets. On Thursday, the chairman of the upper house of Russian parliament urged lawmakers to speed up reviewing a draft regulation to cover crypto assets.
Despite moves worldwide to investigate and warn the public about the risks of digital assets, the prices of cryptocurrencies continued to advance on Thursday.
Bitcoin gained 1.45% whereas Ethereum edged up 4.10% to $109.48, XRP traded 11.55% higher to $ 0.32746, and Litecoin added 3.21% to $32.059.