Ira Kleiman's cross-examination continues on the fourth day of the Kleiman v Wright trial. The day has been a long one, with a lot of information to process from documents and emails submitted into evidence.
However, what stood out the most is the lack of evidence indicating that Dave Kleiman and Craig S. Wright co-wrote the Bitcoin white paper, which is what the former's brother and plaintiff, Ira Kleiman, is alleging through this lawsuit. This is a major argument that purportedly justifies the plaintiff's claim to up to half of the mined 1.1 million BTC that is valued at about $70 billion at the current market price.
The plaintiff side has established in the past days that there are emails wherein Wright refers to Dave Kleiman as his "partner," as well as an exchange of emails between the two discussing a "white paper" that is alleged to be the Bitcoin white paper.
Kleiman v Wright Day 4 has put this white paper partnership into context by presenting an entire batch of email exchanges between Dave Kleiman and Wright in 2008, the same year the Bitcoin white paper was first published.
Through email exchanges presented at court, the defense made it clear that Dave Kleiman and Wright have indeed written a white paper together in 2008, and this white paper is entitled, "Overwriting Hard Drive Data: The Great Wiping Controversy."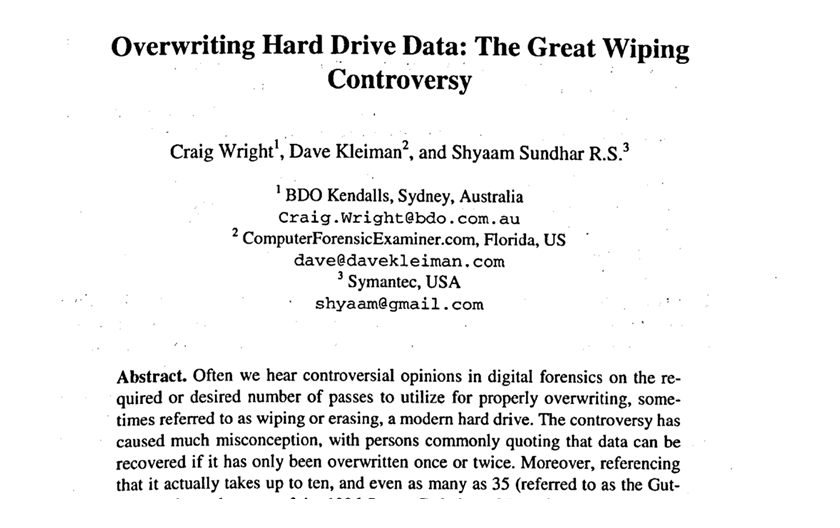 All submitted communication in 2008 between Wright and Kleiman is specifically about this white paper, which was published in September 2008, and notably not the Bitcoin white paper that was published on October 31, 2008.
In fact, there was no email exchange that mentioned Bitcoin at all, except for one wherein Wright was asking Kleiman for help in editing a paper about "a revolutionary idea" referred to as "bit cash" and "bit coin."
The publishing of the two different white papers are so close to each other that had Kleiman and Wright worked on both together, there would certainly be an email track. The white paper on the "wiped" hard drive has that extensive email evidence track, but none at all about Bitcoin except for that one instance of Wright asking Kleiman for editing help.
It is also very important to point out that editing is vastly different from writing. Editing indicates that there is already a completed written document that only needs polishing or proofreading, not a brainstorming session wherein a concept is being formed.
And the fact that Wright has already referred to it in the email as "bit cash" and "bit coin" means the concept has basically been completed. Based on this evidence, there was no collaboration that occurred between Kleiman and Wright in Bitcoin's conceptualization. Being an editor does not make one a co-author of a work, unless properly cited as such.
This specific batch of emails clearly puts into context why Wright would refer to Dave Kleiman as his "partner," because he certainly was his partner in writing a white paper—just not the Bitcoin white paper.