With users still emerging from the Cryptopia Hack, this time a coin is gaining attention for all the wrong reasons. The coin is the popular Haven Protocol(XHV). Haven Protocol(XHV) has a market capitalization of $3.04 million and $174,059.00 worth of Haven Protocol(XHV) was traded on exchanges in the last 24 hours.
However, recently Discordand Twitter are ablaze with the protocol being a plausible exit scam. A user took to Discord and posted.
uhhh… tf did you guys do to $XHV

Punting some longs here, seems like the "it's not a scam but peak FUD" or the "yeah, its a scam and going to zero" inflection point pic.twitter.com/kQc22Z7UxG

— loomd'rat (@loomdart) January 21, 2019
Some even said that even if all developers on the platform collaborate no one can save the project.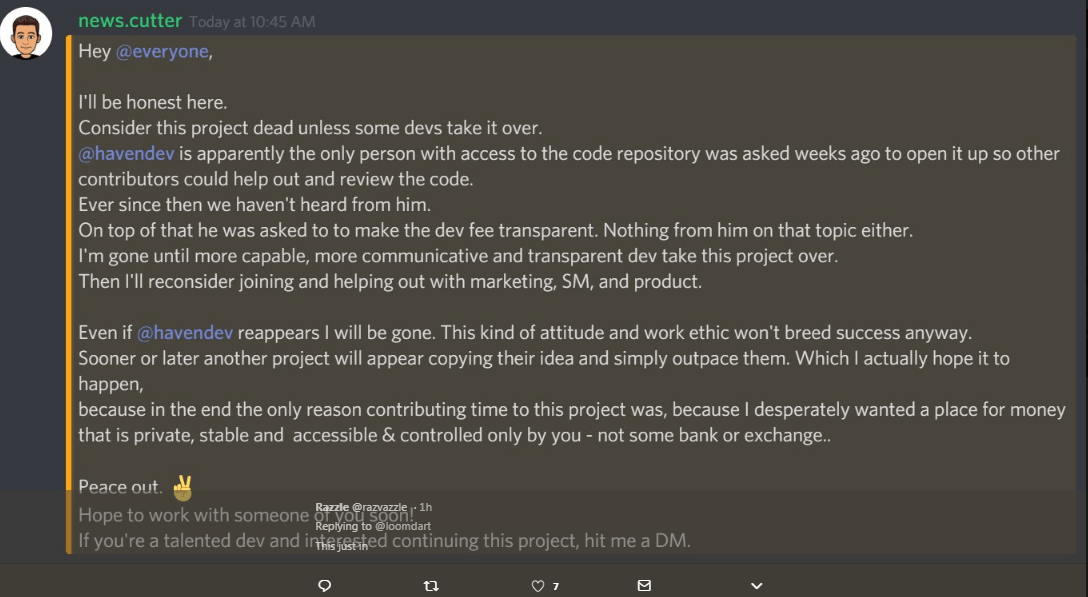 Users are lamenting over buying XHV and twitter user "loomd'rat" left no stone unturned to bring down Haven Protocol (XHV).
wtf did yall do to xhv

should I be rebuying this lol pic.twitter.com/Vzx03KXZSi

— loomd'rat (@loomdart) January 8, 2019
About Haven Protocol(XHV)
Haven is a fork of privacy coin Monero that bills itself as untraceable. It offers fiat value storage by a system of minting and burning coins via smart contracts. Users will ideally be able to send their funds to offshore storage contracts while retaining a portion of the blockchain's funds live to remain responsive to the market.
Also Read: Enjin( ENJ) Crypto Platform to Launch In-Wallet Token Swap
Haven cites the need to store large amounts of fiat currency outside of the banking system as a key use case for offshore storage.
"Privacy focused cryptos are perfect for this but without a reliable way to maintain value through fluctuations the process of holding could be costly," the developers wrote. "Sending Haven offshore quite literally, makes money disappear until you want it back at which point the value remains intact."
Haven is also usable for point-of-sales locations that wish to keep the fiat value of an item from fluctuating.
Also Read: Bitcoin Price dips to $ 3,500 ; Crypto Market Loses $5 Billion