Cryfluenz , a groundbreaking platform designed exclusively for the crypto industry, is proud to announce its official launch. This innovative platform aims to bridge the gap between companies and influencers, providing a seamless ecosystem where both parties can thrive and achieve tangible results.
Founded by Alexander , a seasoned entrepreneur with a wealth of experience in online promotion and PR for international crypto companies, Cryfluenz was born out of a vision to create a single infrastructure where companies and influencers can collaborate effectively. With influencer marketing gaining prominence as the top request from clients, Alexander recognized the need for a platform that prioritizes results and operates on a cost-per-action (CPA) model.
Unlike traditional platforms that focus on clicks or views, Cryfluenz revolutionizes the market by enabling payments solely based on transactions and payments. By aligning the interests of companies and influencers, Cryfluenz ensures that both parties benefit from a mutually rewarding partnership. Companies can connect with legitimate influencers who have a relevant target audience, while influencers can work with trusted companies that have raised funds and are listed on the top 100 CoinMarketCap (CMC) exchanges.
The influencer marketing landscape has witnessed a significant trend toward the CPA format, and Cryfluenz is at the forefront of this movement. According to Influencer Hub, more than half of the influencers already work on a commission basis, and Cryfluenz is poised to drive this shift further. By offering influencers the opportunity to earn several times more than traditional payment methods, Cryfluenz empowers them to choose their partnerships wisely and maximize their earnings.
One of the key advantages of Cryfluenz over non-crypto platforms is its focus on digitization and providing influencers with real business figures. Influencers can access vital information about companies in advance, utilize a comprehensive calculator to estimate their potential earnings, and track their performance through personalized notifications on Telegram. The platform's efficient payment gateway ensures influencers receive their commissions within 24 hours, eliminating the delays associated with bureaucratic processes.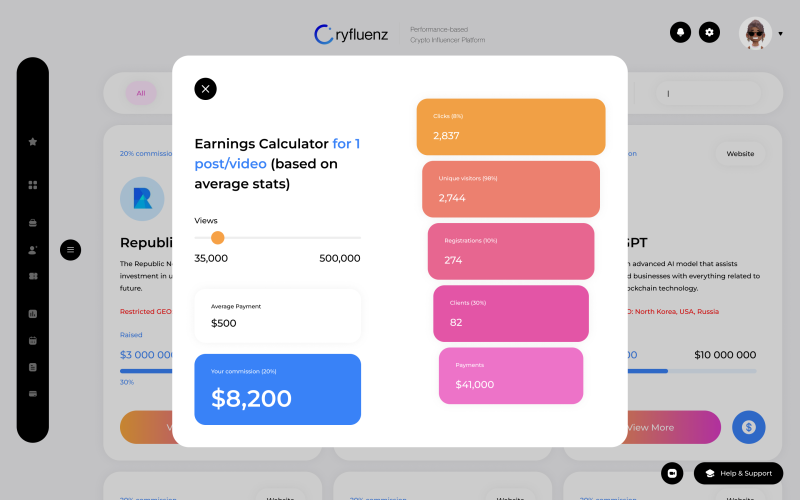 "Our main goal for this year is to have at least 20,000 active bloggers using our platform on a monthly basis," said Alexander. "We have accumulated the largest database of crypto bloggers in the world and will continue to expand our platform to accommodate 100,000 bloggers while prioritizing their comfort and satisfaction. By leveraging our five years of experience in crypto marketing and working closely with our bloggers, we are confident that Cryfluenz will flourish as a community-driven platform."
Cryfluenz invites crypto bloggers and companies to join its game-changing platform and experience the benefits of a results-oriented approach. As Cryfluenz continues to grow its team and enhance its services, it remains committed to driving success for influencers and companies alike.
For more information or to join Cryfluenz, please visit website