Cambridge UK, October 31, 2023 – InFlux, a leading Web3 infrastructure provider, has announced its intention to acquire and rebrand Zelcore Technologies. This strategic move will consolidate InFlux's footprints in the Web3 industry and facilitate the accessibility of affordable cloud solutions to users globally.
Zelcore has played a massive role in the InFlux ecosystem since its inception almost five years ago. As a multi-chain, Web3 based, non-custodial wallet platform, Zelcore features integrated applications that serve to connect Flux with other blockchains, link users to different exchanges and enable node operators in managing their FluxNodes and much more. 
Remarkably, we've come a long way since the launch of Zelcore. The wallet currently has over 700,000+ unique users and 2.5m unique addresses housing more than 1 million blockchain assets.  
However, we've introduced new products, penetrated diverse markets, bridged into more ecosystems, and onboarded new projects. Now, we are expanding the scope of our operations to include all facets of Web3.
The upcoming merger will be completed in 2023 and promises transformative changes in the near future. 
On account of the merger, Zelcore is changing its name to "Core Wallet" (name subject to change) complete with a fresh logo and brand colors. This extensive rebranding process marks the integration of Zelcore into the broader InFlux ecosystem to accommodate our new range of solutions and products. With the introduction of SSP, InFlux now offers a comprehensive suite of products.
The revised brand identity holistically reflects our vision of providing high-availability infrastructure for powering the new internet and a better understanding of our role in shaping the decentralized future. Our goals include the establishment of a fully supported ecosystem for "Proof of Useful Work", a Flux initiative aimed at transforming the way we approach computation and more.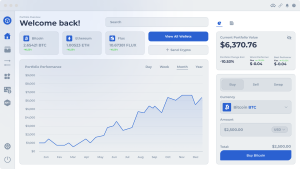 Zelcore has successfully solved two significant problems that limited the onboarding of new users to blockchain and Web3 platforms: accessibility and security concerns. With the introduction of zUSD, a stable asset built on KDA and developed with Fusion, this will bring a different level of service to those in Web3.
It introduced a simple "username-password" system in place of the traditional 12-phrase mnemonic, offering a simplified login process. Additionally, the platform also leveraged an advanced encryption algorithm that erases all password information and digital footprint once a user logs out.
The rebranded wallet will reinforce these foundations and become a multi-asset platform that integrates with other products in the Flux ecosystem. It will also offer support for Flux's Proof of Useful Work (PoUW) and cater to the mining community, for a more seamless look and feel. 
The combination of Zelcore and InFlux marks a significant milestone as we continue to serve users globally, promoting interoperability, synergy, and accessibility to affordable cloud services in the Web3 industry.  
"InFlux is dedicated to fortifying the Flux ecosystem robust, secure and most of all, decentralized. This merger paves the way for PoUW's expansion, offering a seamless miner-wallet-Web3 portal combination. Blockchain is changing and we are leading the way to the next level of adoption. Core Wallet will be the nexus that brings it all together, and allow users to benefit from years of development and hard work from the InFlux and Zelcore teams as well as community and ecosystem. The game is changing, and we are leading the way yet again." Daniel Keller, CEO of InFlux Technologies and Co-Founder of Flux.
About Flux
The Flux Web3 cloud is a decentralized computing service and blockchain-as-a-service solution, offering an interoperable and decentralized development environment similar to AWS or Google Cloud. Flux utilizes a native POW (Proof-of-Work) coin to power this ecosystem, providing incentives for hardware hosters, on-chain governance, and bad actor mitigation via staking requirements for running hardware. The Flux operating system runs on top of Linux to provide the network with verified and benchmarked high-availability compute power and utilizes the blockchain to ensure transparency in governance operations. Flux Cloud is the world's largest and most decentralized cloud infrastructure.
About Zelcore
Zelcore is the world's first consumer gateway for Web3. The easiest way to navigate all major exchanges and blockchain protocols, Zelcore empowers people to quickly find, manage, trade and truly own their digital assets and information. Founded and led by a team with deep crypto, blockchain, payments and financial services experience, Zelcore is based in Portland, OR.
Contact Info:
Name: Betty Kolibacova – CMO of InFlux
Email: [email protected]
Organization: InFlux Technologies Limited
Website: https://runonflux.io/