Gate.io researchers recently confirmed that a 51 percent attack had occurred on ETC blockchain. The exchange reportedly published the analysis of Ethereum Classic transactions on their platform during the alleged attack. According to the report, the exchange claimed it has spotted seven rollback transactions. Four transactions were carried out by the alleged attacker and transferred a total of 54,200 ETC in total.
The report further reveals that the incident took place in a span of four hours betwixt 0:40 and 4:20 on Jan.7. The researchers further reported that during that period the transactions were confirmed on the blockchain and then later invalidated post the malicious network rollback.
Losses worth $40 K noted in ETC
The exchange continues to explain that the firm's censor has successfully blocked the malicious transactions at the beginning. And also has submitted those transactions to manual inspection.
The researchers went on to explain that unfortunately, during the 51 percent attack all the transactions seemed to be valid. And also seemed confirmed well on the blockchain, so the examiner approved the transactions. They also said that it caused about $40K Ethereum Classic loss because of this alleged attack.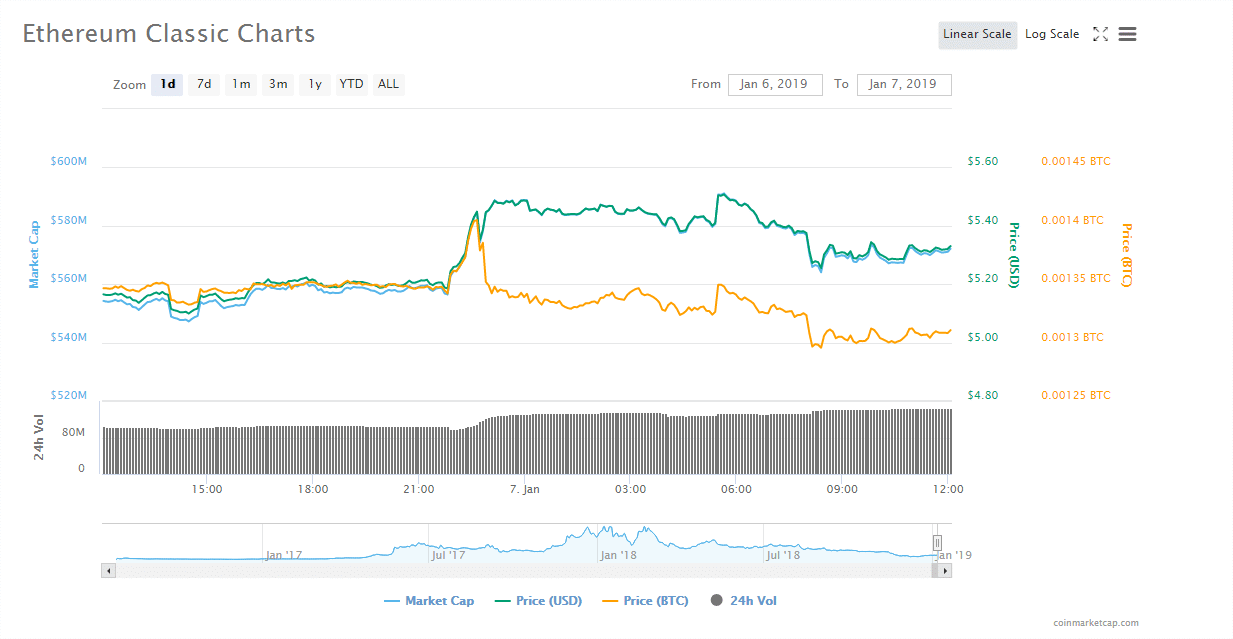 The exchange officials later stated that the firm will compensate its users and will take all the loss for the customers. They further suggested other major crypto trading platforms cease transactions coming from the suspected accounts.
Also Read: TRON records 25% increase in 24 hours; 7th spot a close success now
Gate.io also reported that it has increased its ETC transaction confirmation number to 500. And implemented a more robust 51% detection security mechanism.
The ETC dev team denies that a 51 percent attack has occurred.  At the time, the team claimed that majority control over the network's hashrate was more likely selfish mining. At the time of this writing, the ETC is trading at $4.77 with a market cap of $512 million. As per the data obtained from CoinMarketCap Ethereum Classic dropped by 4.47 percent in the last 24 hours.
Slow Mist, the Chinese blockchain security company also confirmed the 51% attack. It also reported they have detected the same rollback transactions just like Gate.io. Many major crypto firms such as Coinbase, Coincheck, and bitFlyer have temporarily ceased deposits and withdrawals of ETC on Jan 5.