To bring my passion for soccer into my everyday life, Algorand and Fifa created NFTs (non-fungible tokens). The world cup opportunity 2022/23 allows Fifa to create and sell unique tokens representing each team that participates or has particpated in the tournament. Each token has its own attributes, such as its color and design. For example, the hand of god from Maradonna (1986), this NFT shows Maradonas goal where he punched the ball into the net. This short clip can then be owned or traded thanks to the Algorand blockchain!
In the following I will go into detail and show what Algorand can do for you!
Alt text: Fifa World cup 2022 qatar logo showing a world cup opportunity
Algorand crypto simple explanation
Algorand is an open-source, decentralized blockchain network that leverages a two-tiered structure and a unique variation of the Proof-of-Stake (PoS) consensus mechanism to increase transaction speeds and achieve finality. Algorand's block rewards are distributed to all ALGO coin holders, offering the opportunity to earn rewards instead of just block producers.
What role has Algorand in the World cup 2022/2023?
Algorand has teamed up Fifa for the upcoming World cup for both men and women. This deal contains Algorand being Fifas official blockchain partner and Algorand will be a FIFA World Cup Qatar 2022™ regional supporter in North America and Europe, and a FIFA Women's World Cup Australia and New Zealand 2023™ Official Sponsor. This means that billions of people will notice Algorand!
What does Algorands partnership mean?
As previously mentioned its marketing for billions of people from all around the world. Also the US company launches short videos of iconic world cup moments from the past and the upcoming world cup. Fans can buy those clips as NFTs which are randomly selected. To get such a pack of three short clips an amount of 4,99$ is charged. At the moment some of the iconic moments contain Maradonas hand of god (1986) or Mbappés goal in the Finals (2018). Fifa uses Algorands blockchain to process transactions. The payment process is simple and can be done by simple using credit card.
What does this mean for Algorand?
Its a fantastic opportunity to present themselves worldwide and besides more investors get massive partnerships in the future.
Furthermore I imagine that the NFT sales could be huge and as I am a big soccer fan I love having the chance to trade and own the most iconic sports moments is incredible.
Will Algorand ever go back up?
– Token crashed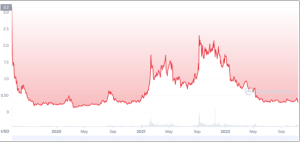 Alt text: Algorand crypto price chart showing Algorand chart from 2019 to 2022 end of november)
https://coinmarketcap.com/currencies/algorand/
+ NFTs sales for both World Cups 2022 and 2023
+ Coin is down since launch, WC could boost the price
+ Marketing to 5 billion people
+71% of tokens in circulation, indicates public interest
+ISO 20022 Standard, long term vision
+ Music Nfts for artists, more money
+ Good protection against Quantum computers, one of the most secure blockchains
+ Team (Silvio Micali, W. Sean Ford, Paul Riegle)
Will Algorand go up in value longterm?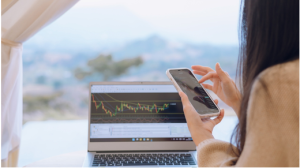 Alt text: woman checking crypto price chart on her phone and on her laptop implementing if Algorand could be good investment or not
Regarding all aspects I believe Algorand is an interesting project that could be hyped during the World Cups and can maybe even carry on the hype afterwards. Having billions of people get to know your name never hurts and could land the company massive sales and could help to land partnerships with other companies.
At the moment the US company has a partnership with the NBA that released the game NBA flex. This game is the first battle Tile and augmented reality board game that fuses professional sports with the latest in augmented reality technology.
Lastly I am bullish on Algorand and believe that the World Cup could partly make up the bearish chart. Also their approach to improving artists payment with NFTs is interesting. The Fifa sponsor purchased Napster which was once leading the song streaming space.
How to buy Algorand on Binance step by step
Click this link to see the ALGO/USDT chart
Before you can purchase the coin a login is necessary. If you dont have an account you need to sign up for a new one.
When this is done scroll down and select the amount of token you want to invest in. When this is done select Buy Algo and confirm the purchase
 Important
Please note that this is not financial advice in any form and investments should only be done after research was made. Also be aware that I will added some ALGO coin to my wallet in the future but didnt invest so far. This article only shows my personal opinion and should only be viewed as a presentation not an inductment for investing. Investing is at your own risk!