Cryptocurrency creditors have found a way to make returns from selling to two types of borrowers. Former one is a die-hard crypto believer- who expects the market to recover strongly while latter one is institutional investors who want to get digital assets for short selling. The decline in the crypto market saw cryptocurrencies continuing in  New Year. Since the collapse started in November, the number of block chain companies in huge numbers has begun to restructure their operations. They are in intent to devise new method to be able to survive the current bear market.
In the last three months, litanies of blockchain companies were forced to shut down their operations. Regardless of the mild depression, crypto lending has continued to prosper. The lenders presented a way for bitcoin enthusiasts to borrow money using their digital assets as collateral and it became conventional in 2017. However, while it was broadly supposed that the niche's growth would decelerate with the occurrence of the crash in crypto prices, lenders have managed to pivot and adjust to the market conditions. Even while the rest of the crypto industry struggled, the above method resulted in continual expansion and profits.
Also Read: Justin Sun Reacts To McCaleb's " TRON (TRX) is 'Garbage' " Claims
BlockFi
BlockFi, a lending firm received an initial $2.5 million investment from Mike Novogratz' Galaxy Digital. It has reported a 10-fold swell in customers revenues since June 2018. It  started by building a USD-based crypto loaning fund. The fund facilitated use of digital assets as collateral and enabled holders of Ether and Bitcoin to borrow money.
Seeing the prospective growth of the crypto industry, the developers saw an opportunity to make even more money. They achieved it  by providing flexible structures, reasonable interest rates and with high levels of fund security.
Albeit, the reduced value of most of these assets, the lenders have continued to flood the BlockFi service. BlockFi has raised more rounds from investors such as Akuna Capital and Morgan Creek Digital. The company has also expanded its services to 42 states across the U.S.
Also Read: Bitcoin Cash ( BCH) : BTC.TOP (Mining Pool) Controls 50% of Hashrate
SALT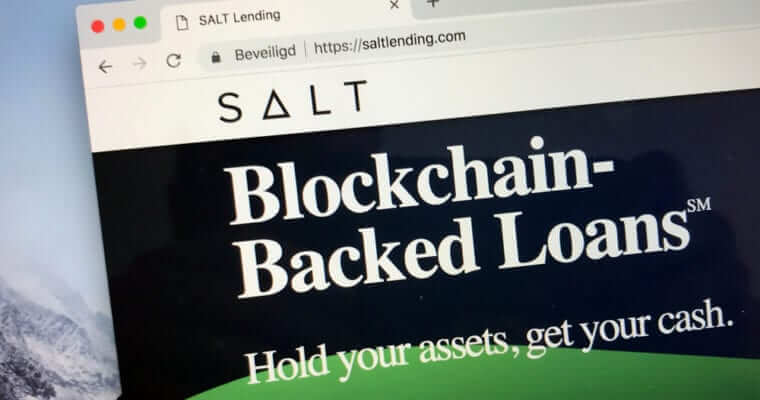 SALT, is  also a crypto lending firm. It recorded massive growth in its operations. The company has a customer base of over 70,000 borrowers. It  has issued well over $50 million since the launch of its services.
A year after its inception, the company has managed to expand itself to 35 states in the country.