Ethereum price surpassed Bitcoin Cash for the first time since ETH's dramatic drop.  It is being counted as the latest negative milestone for Bitcoin Cash Price . As per press time, Ethereum is trading at $85.51 and BCH at $82.
The controversial Bitcoin Cash hard fork which gave birth to BCH ABC and BCH SV has resulted in BCH becoming the biggest loser. It's first post-fork price notes its price drop by $200. The turmoil caused by Hash War is also attributed to Bitcoin threatening to break $3,000 with all major cryptocurrencies down at least 90% from their all-time high prices.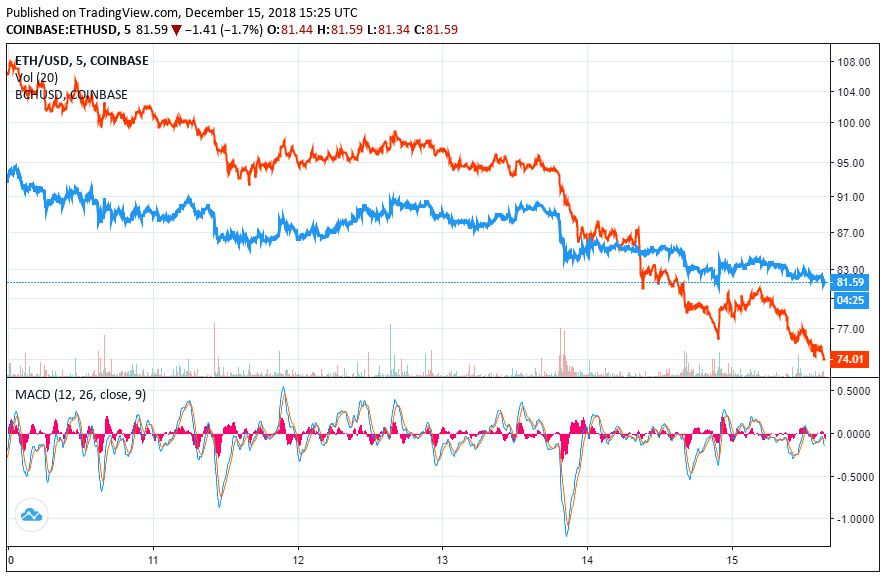 Post-Fork Aftermath
Last week , TCU reported  that Bitcoin Cash price  continues it's downward trend more than a month after a fork. Bitcoin Cash is struggling amidst the market crash and in the wake of a hard fork. In a month span, Bitcoin Cash price declined to just $82 on Coinbase, an 80% decline. It has fallen 98% from it's all-time high and sits at a record low.
Bitcoin Cash is also facing a lawsuit by United America Corporation, a Florida blockchain technology company. The enterprise alleges that the aggressive and strategic deployment of hashing power during the fork constitutes a hostile takeover of bitcoin cash by Roger Ver's Bitcoin.com.
Speculations  about the alleged centralisation of Bitcoin Cash are rife and continue to circulate. A BCH developer last month accused the blockchain of creating a mechanism for centralisation through the deployment of checkpoints in the wake of the hard fork.
Peter Brandt, a prominent technical analyst, observes that  technical indicators of Bitcoin Cash depict a dismal progress for few months . He said:
"BCH with charts like this it is easy to believe that the vast majority of coins will end up worthless.Massively oversold conditions and market exhaustion could allow most of the cryptocurrencies in the space to recover in the upcoming months. But, the sheer intensity of the short-term decline in the value of BCH could create a difficult position for BCH to undergo any significant recovery to escape its low price range.