The crypto asset market, forever dominated by individual retailers is now acquiring the interest and participation of potential institutional investors. SeedCx recently in a press release announced the launch of new crypto wallet solution. The firm is all set to give these investors the same amount of operational confidence that they have with more commodity and financial markets. The leading institutional crypto asset launched a new innovative crypto wallet solution featuring on-chain settlement. Seed CX reportedly developed this new wallet solution with its settlement subsidiary Zero Hash.
Zero Hash is a crypto and fiat currency custodian that offers on-chain settlement services. The crypto custodian has FinCEN's regulatory approval to work as a money transmitter over 25 American states. And it is also under review for a BitLicense from the NY state Department of Financial Services (NYDFS). 
Transparent, Secure and Stable
According to the press release, new wallet solution aims to be more transparent, stable and secure than other wallet solutions. Each platform user will receive a unique and segregate wallet. The firm urges it is more secure than the existing multi-user omnibus wallet solutions provided by other exchanges. The firm states that dispersing crypto asset holdings over different unique wallets will prevent bad actors looking to attack.  Zero Hash to offer a high level of anonymity for the solution will generate new wallet addresses for each user. These wallet addresses will be generated each time the transfers occur betwixt the wallets.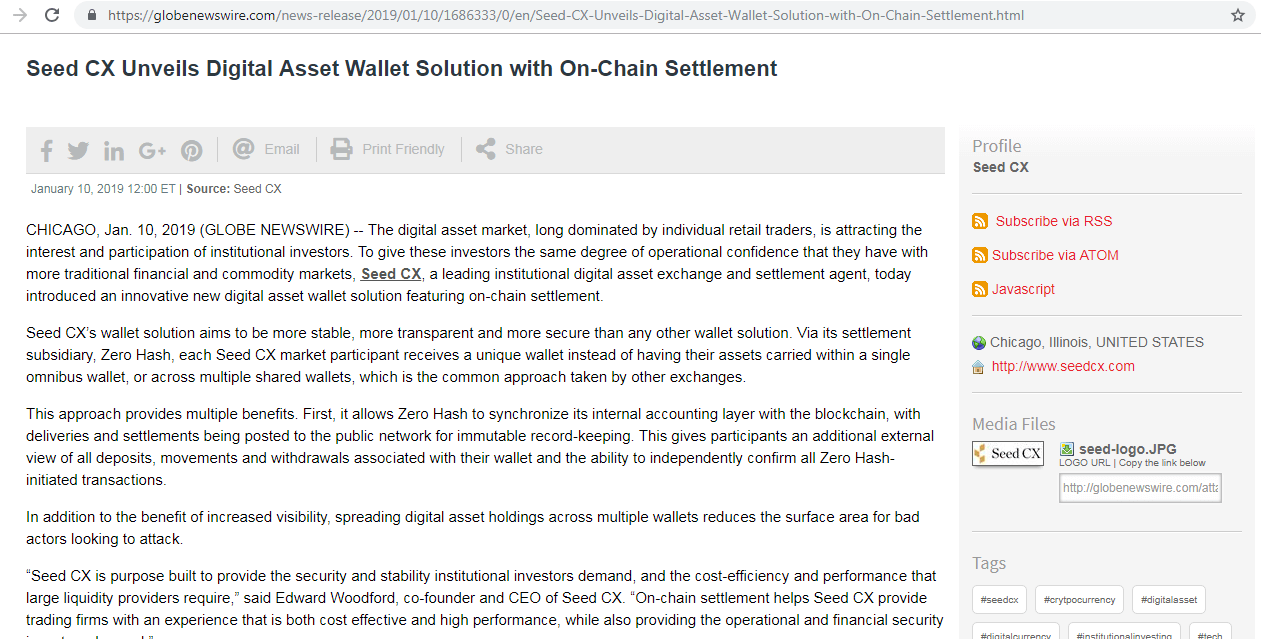 The report further reveals that other safeguards will include limiting access for withdrawal of assets to the user. And whitelisted address functionality to determine pre-approved multi-signature security and destination wallets.  
Also Read: Crypto News : Crypto Bitlord stores TRON (TRX) in Escrow for Son's Secure Future
The exchange levels criticisms at the inadequate security protocols, that it considers to be common among exchanges. It also pointed out at the restricted visibility the investors are offered with off-chain wallet solutions. Due to off-chain wallet solutions, 31 exchanges have been attacked in the past eight years.
Edward Woodford, the Co-founder, and CEO of SeedCX said that the firm aims to offer the stability and the security investors demand. He further added that they also offer performance and cost efficiency that many liquidity providers need.
Woodford further said that on-chain settlement aids the firm to offer trading firm with an experience that is both high performance and cost-effective. He concluded by saying that they also provide the operational and financial security the investors demand.  
About SeedCX
SeedCX  is a licensed crypto asset exchange based in Chicago. It  also offers a market for institutional trading via subsidiaries. Furthermore, it enjoys support from Bain Capital Ventures.  The platform has a license to provide spot market and the United States CFTC-regulated and derivatives. For the latter, it reportedly is planning to provide a separate market in the coming years.
Also Read: Elections Canada struggles with Crypto Donations