While there was much hype about the upcoming hard fork, the excitement has subsided big time now. This is because core developers of Ethereum have called for a delay. Interestingly, this news comes just hours before the scheduled fork was about to go live.
Postponing Constantinople 
In a statement, the Ethereum Core Developers and Ethereum Security Community said that they decided to postpone the hard fork after security researchers identified a potential vulnerability in one of the software upgrades. Security researchers have identified a potential vulnerability in one of the software upgrades.
ChainSecurity and TrailOfBits ran are still analysing the whole  blockchain. However, there is still a non-zero risk that some contracts could be affected," the official statement read.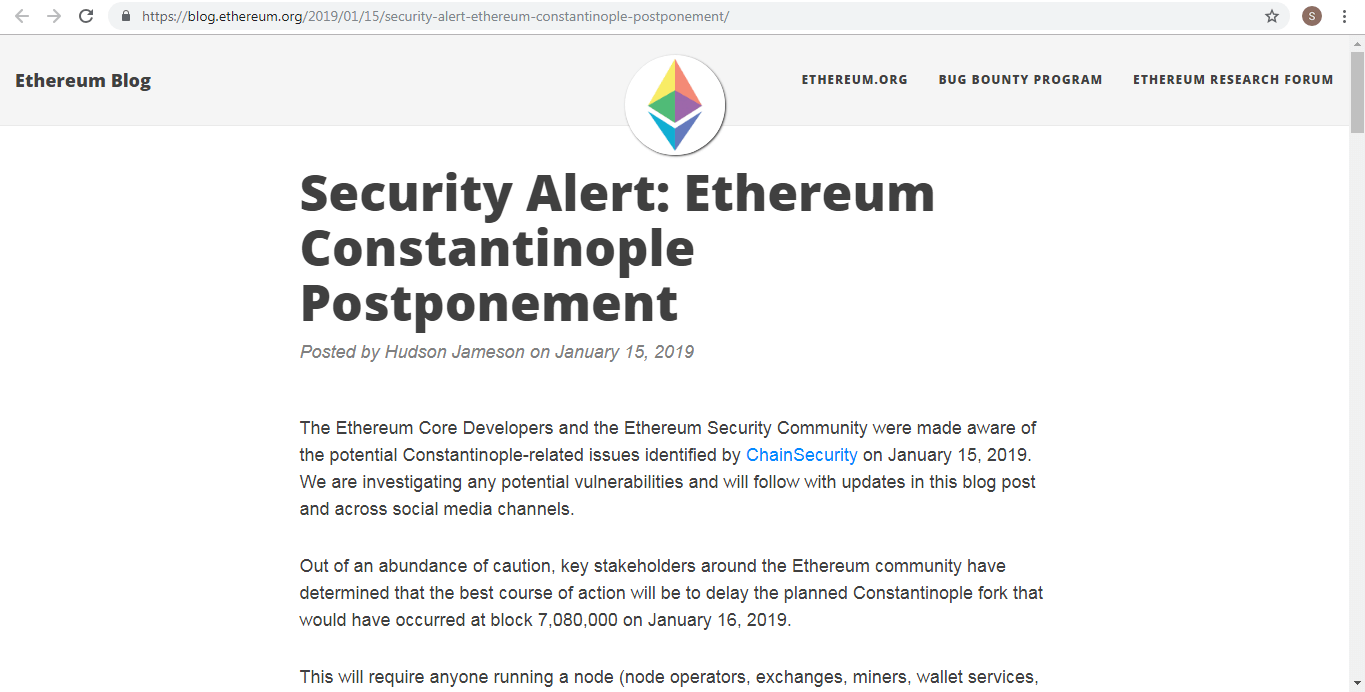 Because the risk is non-zero and the amount of time required to determine the risk with confidence is longer the amount of time available before the planned Constantinople upgrade, a decision was reached to postpone the fork out of an abundance of caution. Potential vulnerability stems  from EIP-1283. It introduces a cheaper gas cost for SSTORE operations. Researchers believe that it's possible that had EIP-1283 been activated, certain smart contracts that are already running on Ethereum could have become vulnerable to reentrancy attacks.
Emergency Software Upgrade
Since Constantinople saw a delay miners, exchanges and node operators must upgrade to emergency versions of their Ethereum software or downgrade to previous pre-fork release. If one doesn't upgrade a node, there is risk of disconnecting from the network. This is because Ethereum network is not compatible with any of the previous versions.
However, users who do not run full nodes need not  take any action. More importantly, their wallets will remain secure. This is important to note because it's likely that scammers will try to swindle crypto holders out of their funds.
Also Read: Hackers Spiking Torrent Files With Malware To Phish Crypto Addresses
Benefits of Constantinople 
The fork when implemented will scale mainstream usage  and will also reduce Ethereum block reward by 33%. Furthermore, last block processed at time of writing was 7072694. There are no new announcements regarding new fork date. 
Ethereum Price Plummets
The ethereum price plunged following the announcement, declining as low as $116 on Bitstamp.
Also Read: Hacked!!!! Cryptopia Exchange falls Victim to Security Breach