Bitcoin, as a currency. has been embraced by a particular stratum of society for quite some time now despite the inherent scepticism that follows with it being a "cryptocurrency". This has been further bolstered by Chicago Mercantile Exchange (CME), the world's largest futures exchange and one of the juggernauts that kept the wheels churning by launching "Bitcoin futures" contracts last year.
Now, it seems, the things are going on the right path for the Bitcoin Futures as, recently, CMEGroup took to Twitter to make an ecstatic revelation. The tweet read, "In Q3, Bitcoin Futures average daily volume rose by 41% after open interest soared up 19% over Q2."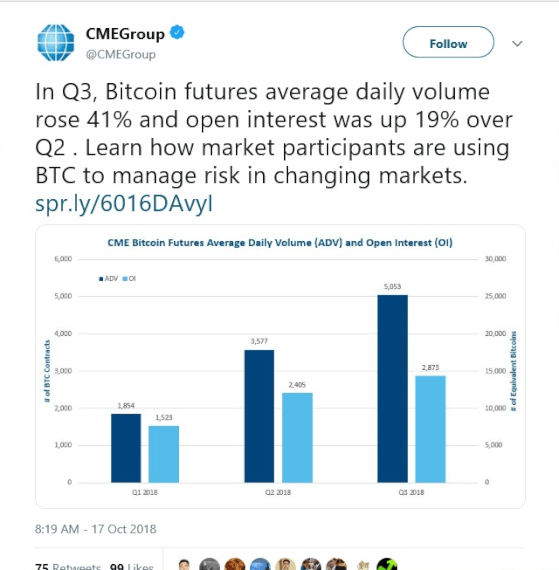 It has been an Upward Trend for Bitcoin Futures
The  CME Group's statement was supported by a graph that presented the statistic resonating with the upswing in the Average daily volumes for bitcoin futures. The graph shows an upward trend over both the quarters: Q2 over Q1 and Q3 over Q2. However, emphasis has been put on the sharp rocketing of Average daily volumes (ADV) by 41 per cent in Q3 over Q2, i.e from 3,577 contracts in the second quarter to 5,053 contracts in the third quarter.
CME also provided insights on the total number of unsettled contracts held by those trading in the market, generally known as Open Interest (OI). The graph depicted an increase of 19 per cent in the third quarter over the second quarter, that is hitting up to 2,873 contracts in the third quarter against 2,405 contracts in the second quarter.
The alleged after-effects of Bitcoin Futures
The extreme fluctuations in the bitcoin futures market have always been inflicted by many speculations and cynicism. Recently, CME was mired in controversy when a report published by Wall Street Journal alleged that a dispute between the Chicago Mercantile Exchange (CME) and four cryptocurrencies exchanges compelled the Commodities Futures Trading Commission (CFTC) to probe crypto markets for suspected manipulation.
Earlier, this year, Fundstrat Global Advisors co-founder Thomas Lee went into a diatribe against Bitcoin futures, suggesting that bitcoin futures contracts are likely to be linked to the cryptocurrency's "gut-wrenching" decline.
However, Tim McCourt, CME's managing director and global head of equity products and alternative investments, articulated that bitcoin futures market is not to be blamed for the downslide in the crypto-markets. He further appealed, saying "we are just a small part of the market".