Chronicle Protocol is a name many in crypto will have heard lately, having just announced their public launch, it is clear the Chronicle team aims to make a splash as they emerge from MakerDAO. 
Kicking off with ETH Warsaw in August, Chronicle has been on a mission to spread the word about their newly available Oracle protocol. In fact, Chronicle has been the exclusive Oracle of MakerDAO since 2017, which makes them the original Oracle protocol, before Chainlink, for example, but only available within Maker and its ecosystem.
Following up ETH Warsaw with Permissionless II, Chronicle Protocol was officially unveiled during a keynote by Founder Niklas Kunkel and opened to the public for the first time. "Anyone who is in need of high quality, secure, and cost-efficient Oracles now has the option to talk to Chronicle," said Nik.
Crypto conference season continued for Chronicle with the RWA Summit by Centrifuge and Messari Mainnet following shortly after in New York City. This is where Maker's Oracle unveiled their plans for the RWA (Real World Asset) vertical and how they believe Oracles need to be architected in order to effectively feed real-world asset values onto blockchain.
Chronicle crypto financial backbone
Oracles are an integral part of crypto's infrastructure, and Chronicle is the second largest in the space by Total Value Secured (TVS). 
Often compared to gated bridges. Oracles transport data from outside a blockchain into it and between different blockchains, such as from Ethereum to Optimism. This data mainly pertains to the values of various digital assets, such as Bitcoin in USD or Ether in EUR, and is commonly referred to as 'Price Feeds'.
The gated element of the bridge refers to the mechanism Oracles use to validate the authenticity of the data, some, such as Chronicle Protocol, use a consensus mechanism. This means they ask multiple validators or Feeds the same question, such as what is the value of BTC/USD right now. They use the consensus, in this case, defined by a quorum of 13 of 22, to deliver the median (minus any outliers), as the final value to send across the bridge.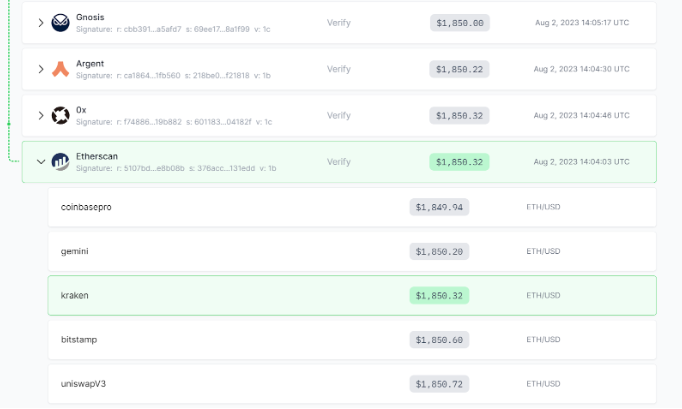 The main users of Oracles are DeFi protocols, such as Maker or Compound. An example of usage may be to inform the smart contracts underpinning the protocol of the value of an asset that is currently being held as collateral. This is important to understand as it will instruct on when and if to 'call liquidation' on customers utilizing the lending protocol.
There are billions of USD circulating in these DeFi protocols and utilized by both entities and individuals all over the world. MakerDAO alone holds more than $5bn in its protocol, and every penny of this is exclusively secured by Chronicle Protocol and has been since 2017.
The quality of an Oracle is of the utmost importance to ensure the value secured in a DeFi protocol is safe and secure. If the values an Oracle reports can be manipulated, then this leaves DeFi protocols open to manipulation and theft of user assets. Therefore Oracles are 'mission critical' infrastructure. 
New and experimental solutions are risky and can lead to exploitation. This is why the expertise and reputation of the Oracle provider is paramount.
About Chronicle Protocol
Chronicle Protocol is a novel Oracle solution that has exclusively secured over $10B in assets for MakerDAO and its ecosystem since 2017. With a history of innovation, including the invention of the first Oracle on Ethereum, Chronicle Protocol continues to redefine Oracles. A blockchain-agnostic protocol, Chronicle overcomes the current limitations of transferring data on-chain by developing the first truly scalable, cost-efficient, decentralized, and verifiable Oracles, rewriting the rulebook on data transparency and accessibility.
For more information about Chronicle, visit chroniclelabs.org, its community discussion channel, and Twitter.