With today's Stellar's stunning market performance Bitcoin made it above $4,000.00. It did so after one whole week of battling sellers, the crypto-pioneer and leaders. In just around 30 minutes, the collective  market cap climbed from $132.00 bln to $139.00 bln. The bulls are having their say as the industry is struck with a positive sentiment with Bitcoin counting 5.60% gain in the last 24-hours.  Litecoin (LTC), without a doubt, is the one who is standing out strong for a couple of days. In only a week the crypto asset ranked 6th according to data on CoinMarketCap.
Litecoin- Going Strong
It surged in price from $22.50 to $40.00 in only two weeks subsequent to Ethereum's revival-run which took place upon closing-in to its Constantinople Hard Fork.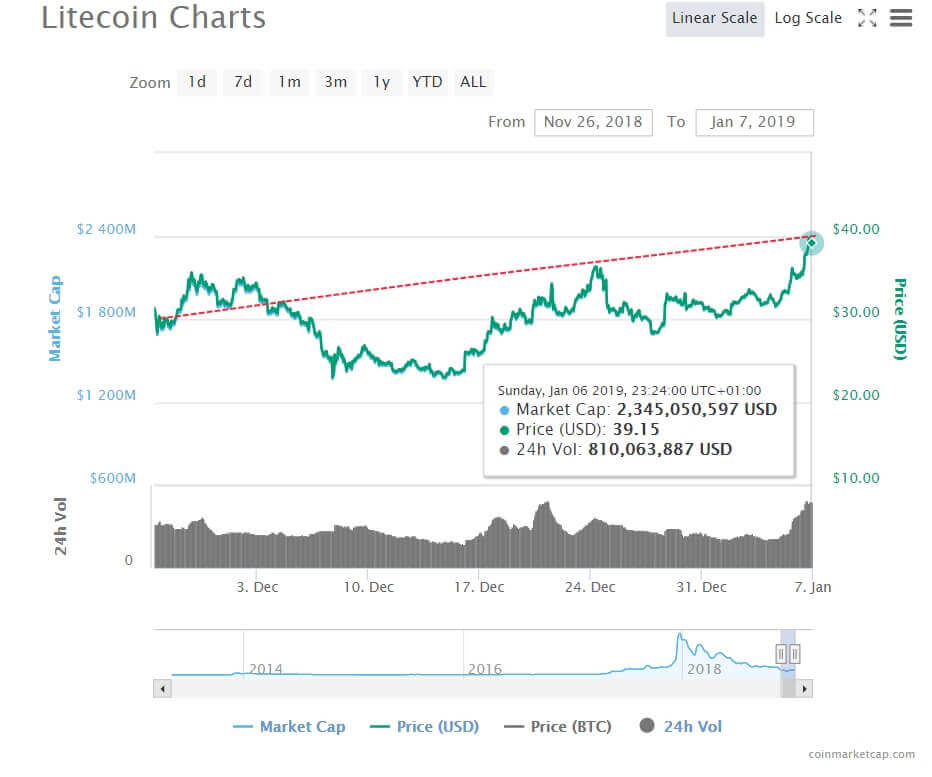 Reaching significant levels just about at the same time for all coins is indicating a slight turn downwards as short-term traders are using the amplified value to garner profit.  At the time of writing pair, LTC/USD is the only crypto asset with double digit at 11.70% leading the BTC market at 5.65%.
Also Read: Nano Cryptocurrency Faces Lawsuit Over Alleged BitGrail Hack
Cardano witnesses Sudden Shift
We can announce that there has been a change in the Cardano Foundation Council. Michael Parsons has resigned with immediate effect, Pascal Schmid takes over as Chairman on an interim basis. https://t.co/hg8bvVykQy

— Cardano Foundation (@CardanoStiftung) November 13, 2018

Following up is Cardano (ADA) with 10.63% reaching the $0.04950 level struggling to get above $0.05000 another time.The Cardano Foundation recently issued a notable announcement at their one-month dormant Twitter account. It stated that 

"Cardano's hierarchy had undergone a sudden shift. As Charles Hoskinson, one of the masterminds behind the Ethereum and Cardano projects alike, put it, "The Babylonian Captivity of Cardano Has Ended."
Also Read: Coinbase de-platforms Anti-censorship social media platform Gab