Bitcoin Price reached a fresh yearly low this morning, leaving investors and traders in a lurch. While Bitcoin's all time low can be attributed to several factors a plausible reason  coming to light is South Korean Cryptocurrency Exchange Bithumb contributing to the huge sell- off.
According to a research by CryptoCompare, Bithumb sat at the top of all exchanges in daily volume from October to November. It had an average of about $1.24 billion in daily turnover. This implied a parabolic increase of 284%. This happened during the time when even Binance witnessed a 34% decline in volume.
                                                                                             Image Courtesy: Trading View
Interestingly Bithumb's huge volumes were not organic in entirety which is the reason CoinMarkertCap still lists Binance as the world's largest cryptocurrency exchange. The prime reason for Bithumb's inflated volumes can be attributed to trading promotions. These activities helped Bithumb boost it's daily volume. Additionally, heightened prominence of KRW trading has also contributed substantially to the boost.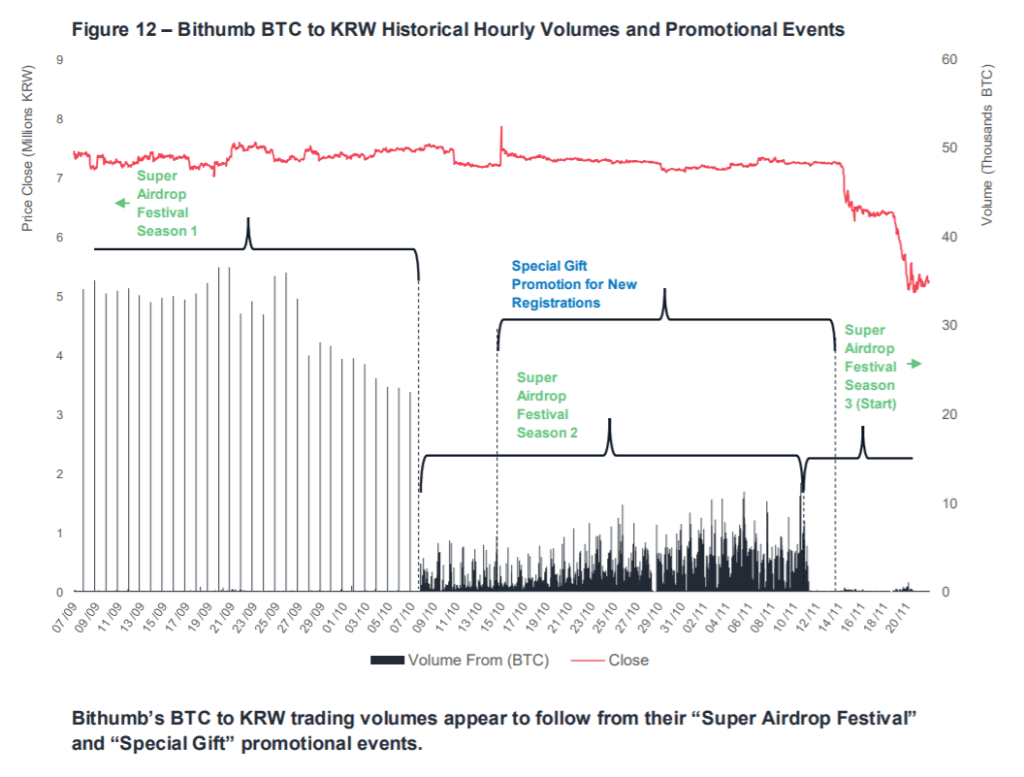 Image Courtesy: CryptoCompare
The report reads:
"Bithumb saw a 284% increase in volumes from the previous average of 323 million USD for the Sept/Oct period. This increase in volumes follows after Singapore-based BK Global Consortium bought a controlling share in the exchange in recent months, and later implemented a series of airdrop competitions, raffles, rebates, and other programs designed to incentivize non-Korean users to sign up to the exchange and trade in exchange for rewards. They have also implemented a potential form of trans-fee mining for certain users, where trading beyond a specific volume is rewarded in the form of "Bithumb Cash" at a later date."
Mati Greenspan, senior market analyst at eToro absolves Bithumb and says the promotion must have helped the market remain stable for a longer period.
"If these findings are indeed accurate, I would say that blaming South Korea for the drop wouldn't exactly be correct," Greenspan wrote in daily market commentary .  "More likely, it appears that the volume promotion by Bithumb caused several months of stabilization in prices, to begin with."