The recent Bitcoin Cash (BCH) hash wars have left a very little space for reasonable fact related debates. While it turns out, the two counter factions, SV and ABC really wish to make use of appeal to authority. It's more like a logical misconception that dolts short-sighted investors.
On November 16, the Satoshi Nakamoto's Twitter account '@Satoshi' posted an enthralling cryptographic message.
The tweet basically read 'Sig (Rx, S) for Message H(m) Rx: 97921318692748166969765893503724782362221860890089306445657980140065784098104
S:17870770544568028453805091504963125490615703388985597936947183001452377396233
H(m):90774958364900180671716888080665726921328827653065727390791155349203800699667'.
Unsurprisingly, the @Satoshi's account is terminated but the screenshot of the tweet can be seen below.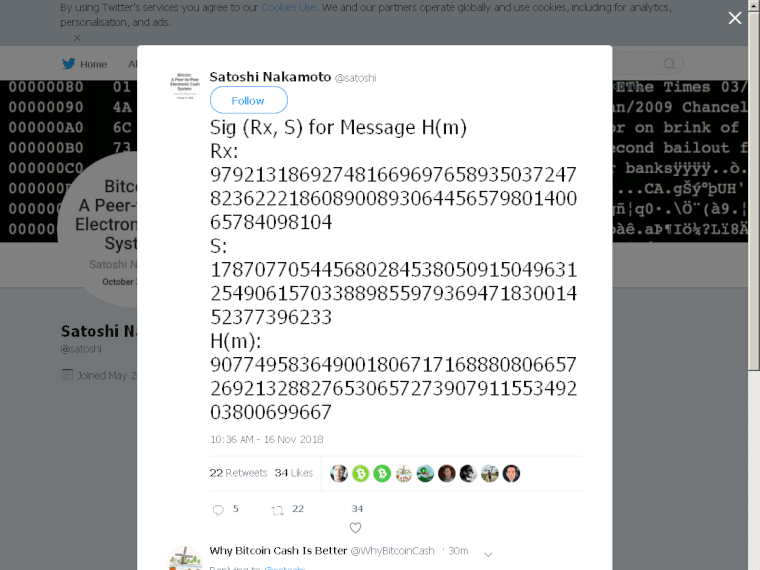 The interpreted meaning of this cryptographic message is 'I am Satoshi, I'm still alive and well, and I want to send you all a message'.
After the so-called tweet, Twitter was on fire. While many people argued that the account and the signature are fake, as they believed that it was done only to mislead the crypto market. Many on the other hand, believe Satoshi's alive and this is a good news for the crypto industry.
However, in reality, this proved to be a strategy that BCHSV factions used to justify their vision of Satoshi's divergent approach. Because the content is identical, it is believed that Craig S. Wright is behind the alleged @Satoshi Twitter account. However, the account was ceased after some time.
The situation got more intense and ridiculous, when Calvin Ayre a BCH investor posted a speculative tweet that said Satoshi's alive and he is likely to upset at Bitcoin.com and Bitmain for attacking BTC.
The people who have no idea about coding, mathematics, and cryptography, this may look like an eccentric polymath. But to people like Greg Maxwell, Jimmy Song, Pieter Wuille and Andy Poelstra it is nothing but a scam to trick people.
Jimmy Song, a Bitcoin Educator, developer, and entrepreneur recently came to the crypto community's rescue with a blog post. In a succinct, Jimmy Song said 'Don't trust blindly, verify' ethos by exposing the myth with a mathematical evidence.
According to Jimmy, the first thing that clued to many individuals was the fact that this Twitter account did not make use of the standard sign/verify feature found in almost every BTC wallet. And further, the Faketoshi decided to set up their own verification software, that is unusual. He further added this was done to mislead market participants.
Jimmy explains the principle of cryptographic messages and makes a replica of the @Satoshi's tweet by creating an identical ECDSA 'key9' Signature. He further created a non-sense signature proving that the Faketoshi's signature is bogus. He also believes that it is equivalent of claiming to have run an entire two-hour marathon after suddenly pop up close to the end line.
He also said that it is nothing but a fraud that is used to lure unsophisticated investors. And added that a real signature would have the digital equivalent of an observance race starting line.
The Jimmy Song's blog post ends with a challenge that says if anyone interested to prove that they are the real Satoshi Nakamoto and they own the Satoshi's genesis key, then they should sign a specific message.
Do you think the @Satoshi's Signature is real or fake? Let us know your thoughts below.