Due to recent investments, the value of the global cryptocurrency market has increased. Bitcoin, Ethereum, and others have all had positive outcomes from recent reforms. The ongoing strength of the market has given investors a sense of peace. Investors have been discouraged by the recent downward trend and cumulative losses over the last several days.
The market's recent ability to sustain gains has sparked renewed optimism. While filing for bankruptcy, FTX requested the court to allow BitGo to keep its assets. The remaining $740 million in digital assets will be stored in the firm's cold wallets. The head of BitGo has said that natural calamities must be stopped immediately.
On November 13th, a day after a hacker stole millions of dollars from the account, the parties to the custodial services agreement signed the contract. Before transferring cash, the corporation and its affiliates must seek judicial protection.
A five million dollar up-front fee was agreed upon between FTX and BitGo. According to legal estimates, services are expected to cost $100,000 per month. In addition to its ongoing investigation into the disappearance of the cash, FTX has been working on getting those funds back. Regular withdrawals ultimately led to the company's demise and bankruptcy.
Price of Bitcoin Keeps Rising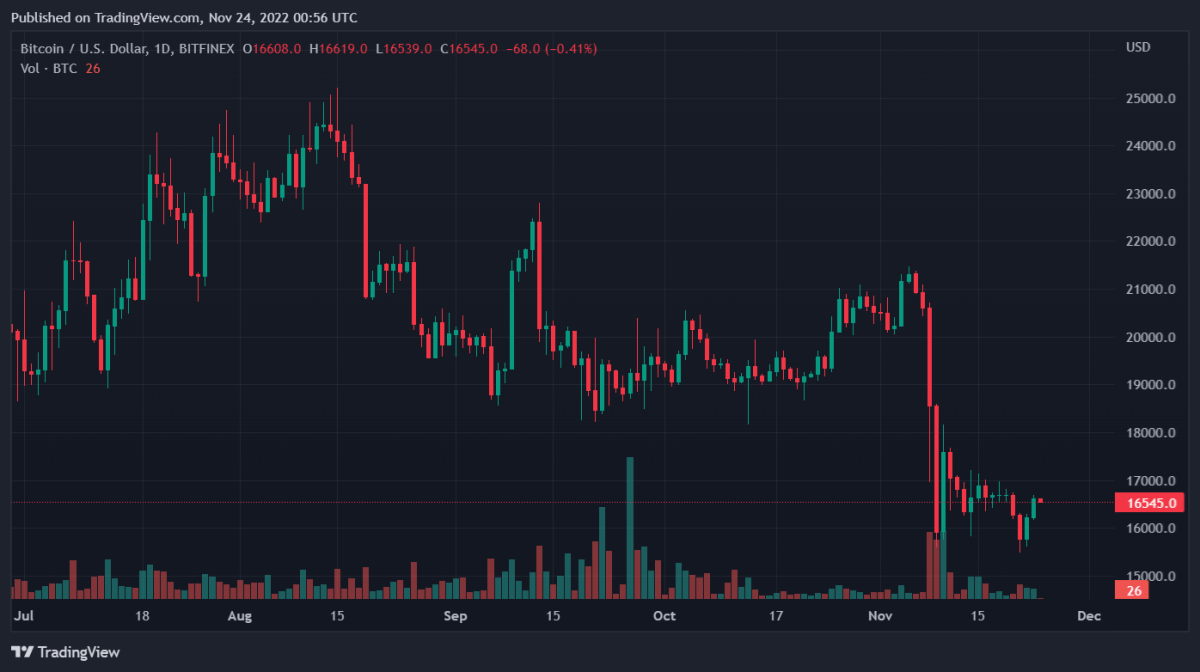 As a result of the publication of Fed minutes, the value of bitcoin and other cryptocurrencies has increased.
The Federal Reserve has announced its intentions to raise interest rates again, while it indicated that future increases might be more gradual. If this occurs, the crypto market as a whole will profit greatly.
Bitcoin's recent movements are indicative of an upward trend. According to the most recent numbers, it gained 2.19 percent in the previous day. Bitcoin's value has decreased by 0.87 percent during the last week.
BTC's worth is now about $16,542.62. Bitcoin's market valuation is predicted to reach $317,873,632,469 this year. Bitcoin sees roughly $32.9 billion in 24-hour trading activity.
Ethereum
The Ethereum supply has hit an 11-month low, the first in three to five years. Major events, such as the demise of FTX and other enterprises, have proven to be an issue for the market. Ethereum has shown remarkable resilience in the face of significant downside pressure.
Ethereum's performance has also been positive, with the cryptocurrency continuing its upward trend. The most recent numbers reveal that it has risen by 3.94 percent in only 24 hours. Seven days of data reveal losses of about 3.06%.
At this time, one Ether is worth about $1,180.60. Further, this coin's total market capitalization is predicted to be $144,474,881,980. Every day, the same coin generates a trading volume of around $11,103,590,635.
***