Major cryptocurrency exchange Binance, a few hours ago, announced that it is listing an altcoin on its platform.
Earlier today, Binance on Twitter made an official announcement that it will start listing Decred very soon. The exchange will open trading for DCR/BTC and DCR/BNB trading pairs with the Decred listing fee of 0 BNB from 4:00 AM on 24th of October. The customers can start depositing DCR (Decred) in preparation for the trading.
According to the CoinmarketCap analysis, the DCR has surged to 25.84% in less than two hours after the official announcement was made. As of the time of writing, the DCR is trading at $48.77 USD, reaching the highest level since August this year.
The Decred team further replied with a tweet thanking the Binance officials for listing their altcoin on Binance, and bringing subsequent price boost for their altcoin. The original tweet can be seen below.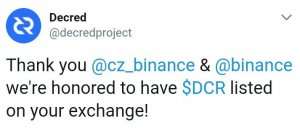 The value of DCR has not increased for the past two months and was stuck exchanging sideways in the channel between $34 and $44. However, since today's announcement, the price of DCR raised above those levels and reached $50 again. The daily trading volume has hiked over a thousand per cent to nearly seven million dollars.
Recently, the Decred team has launched a new system 'Politeia' which is a censorship-resistant blockchain-anchored public proposal system. This empowers customers to submit their own personalized projects for self-funding from the Decred's block subsidiary.
Further, the platform Decred stakeholders decide which proposals will get funded from the project treasury. However, it is an attempt at decentralisation and putting the future of the project in DCR holders' hands. Today's Binance's announcement was long overdue for Decred which has been facing a downward slope since May, and this was a game changer for it.  
About Decred
Decred is similar to Bitcoin. It was launched in 2016, intending to create a more robust cryptocurrency by solving a blockchain governance. It was designed to be a completely open source, autonomous and driven by the community. There is no central bank involvement required.
Decred utilizes innovative and advanced technology that solves blockchain governance. No hard forks are required here. The cryptocurrency exchanges will never have to deal with user requests for splits. And the public will never have to look through contentious forks or be fooled by false claims of a 'better decred'.