The previous year saw many investors counting on hardforks as an easy profit to their portfolios. Undoubtedly, at that time investors who held on to coins(Ethereum Cash and Bitcoin Cash ) on both sides of the split reaped high profits. Bitcoin Cash price was trading near $500 before the fork took place with an $8 billion market. The currency also ranked fourth among cryptocurrencies. However, the forks happened in a rather short span of time. It is not a false proposition that when it comes to forks the whole may be less than sum of it's parts.
Plummeting Bitcoin Cash Price 
Bitcoin Cash is struggling amidst the market crash and in the wake of a hard fork. In a month span, BCH declined to just $82 on Coinbase, an 80% decline, It has fallen 98% from it's all-time high and sits at a record low.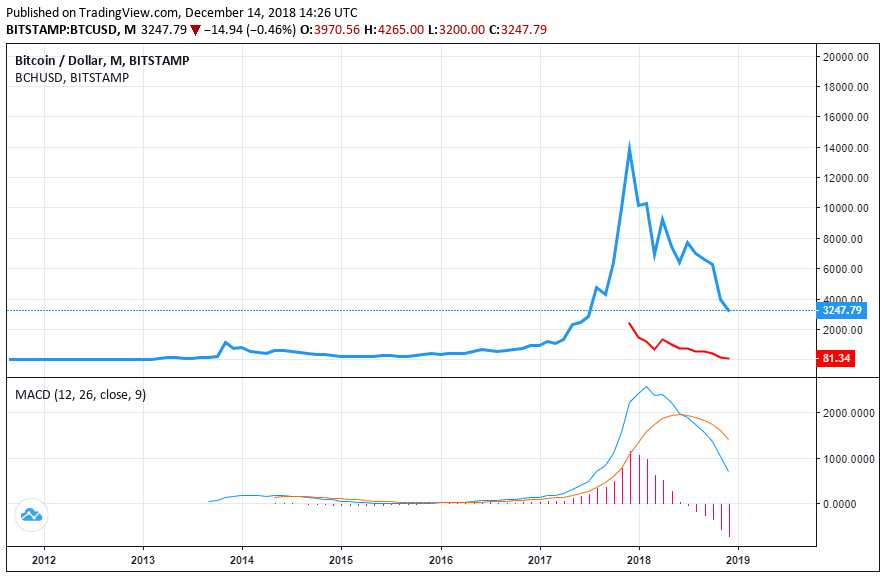 The lost economic value didn't exit the Bitcoin Cash ecosystem but migrated to a separate BCH network. Bitcoin SV was created after the fork and it's price managed to catch up to BCH. At one point of time BSV even surpassed BCH in total market cap. At press time, BSV is priced at $77 on Kraken, approximately $5.50 below BCH.
Plunging against Bitcoin 
However, the drop cannot be blamed completely on the  market decline, as the combined value of BCH and BSV has also plunged against Bitcoin(BTC). Prior to the fork, BCH was already trading near an all-time low at approximately 0.08 BTC. Now, Bitcoin cash and Bitcoin sv are worth a combined 0.048 BTC, and that number shows no signs of finding a bottom anytime soon.
On 8th December, TCU reported  Bitcoin Cash SV (BSV) is surrounded by controversy once again, after a researcher demonstrated how a user can spend coins twice on it's network in a  "0-conf transaction."
BCH created from Bitcoin in August 2017 incorporates "0-conf" for instant transactions implying they are always confirmed in the next block. In a multi-phase testing demonstration on Vimeo, the user popularly known as " reizu" successfully did double spending of BSV tokens in a " 0-conf transaction." This comes a as a major blow to Craig Wright's claims and demonstrated a major vulnerability in the system.
While the future prospects are bleary for Bitcoin cash, Bitcoin sv, and the crypto sector at large. Apparently, traders are not confident that both BCH and BSV can thrive over the long-term.