The crypto market has faced a loss of $14 billion in the past 24 hours as Bitcoin( BTC) dropped by five percent.  
Bitcoin, the most popular cryptocurrency in terms of price, market cap, and volume displayed the smallest loss out of all major cryptocurrencies. Bitcoin Cash (BCH), Ripple(XRP), Ethereum( ETH), Stellar (XLM), Litecoin ( LTC), EOS and many other cryptocurrencies witnesses losses in the range of 7 to 15 %

Crypto Tanking in Action
Cryptocurrencies have been bearish since January 2018 and have not recovered well since then. Bitcoin(BTC) maintained it's $6000 level, each time it dipped to the range of  $5,800 to $6,200, it bounced back to the mid-$6,000 region.
"Based on current market conditions, a significant surge in the price of major cryptocurrencies is highly unlikely. But, a gradual increase in price due to the anticipation towards Bakkt until early December remains a possibility, especially if Bakkt gains traction among investors in the regulated US market," the report read.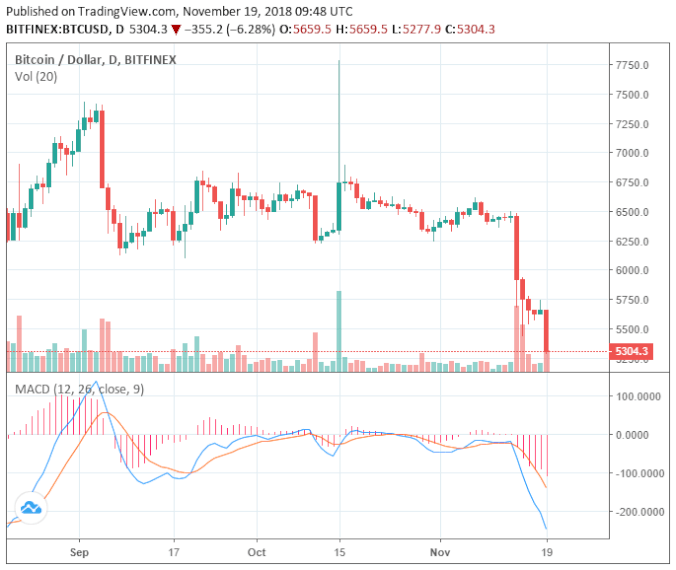 Bitcoin witnessed an uncomfortable position to eye a breakout to $6,000 owing to it's low volume and the high intensity of crypto market crash on November 15.
Hsaka, a cryptocurrency trader and technical analyst,predicts that a retest of $5,600 is possible expecting a recovery from the low $6,300 mark.
"Could be forming a nifty little range here. Swept shortstops and tested range bottom. Swept long stops. Now if price can reclaim the zone around $5,400, a retest of $5,600s looks likely."
As BTC maintained stable prices from August to November. It prices dropped substantially against US dollar. Other cryptocurrencies also struggled to sustain momentum. Ripple's gain also neutralised as it fell around by 7% , diminishing yesterday's gains.
Major technology stocks like Nvidia witnessed a  drop in the range of 10 to 30 percent as the US markets started to demonstrate a lack of momentum. 
CNBC reported that 25 percent of wealthy investors believe the US market will see an end of its bull market.
"These are more experienced investors, sitting tight and staying the course. Any near-term noise is never a good idea to make wholesale changes. Over longer periods of times these events are less meaningful," said Mike Loewengart, chief investment officer at E-Trade Capital Management.