Cardano (ADA) Distribution and accumulation territories:
Distribution territories: $0.080, $0.083, $0.088
Accumulation territories: $0.077, $0.073, $0.070
Cardano Medium-term Price Analysis: Bearish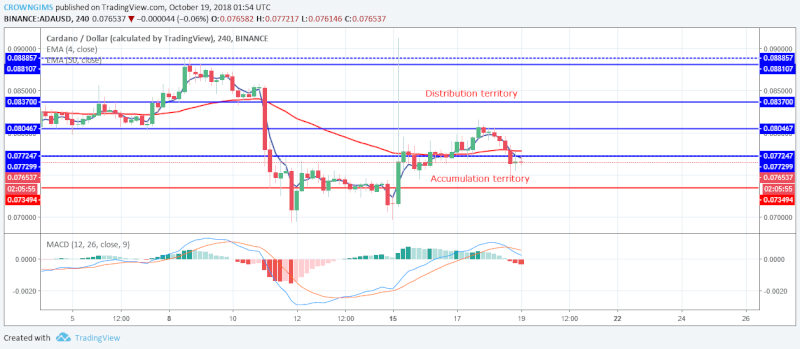 ADA returns bearish in its medium-term outlook. The bears overpowered the bulls after the break out from the consolidation by the bulls. Before the bulls' break out, the pair has been consolidating for some time. The Bulls lost the pressure at the distribution territories of $0.080 and the bears took over the control of the market.
Today, the cryptocurrency is falling as it approaches the previous low at the accumulation territories of $0.073. In case the price falls to the low distribution of $0.073, traders should look out for buy setup to initiate the long trade.
Nevertheless, MACD with its histogram is below the zero level with its signal lines pointing to the south which indicates a sell signal. In the same vein, the price is under the 4-day EMA and 50-day EMA which indicates that a bearish trend is ongoing.
Cardano Short-term Price Analysis: Bearish
On the 1-Hour chart, ADA is in a bearish trend. The ADA price is below 4-day EMA and the 50-day EMA above indicates that the price is falling. Also, the MACD with its histogram and signal lines are below zero level which indicates a sell signal. If the price fall to the low of $0.073 the accumulation territories would be breached.